Who doesn't love a great birthday party?

We certainly do, and so we couldn't wait to enjoy a good, old-fashioned knees-up to celebrate 35 years of producing Megalac at our Liverpool factory! Of course, this has been quite a uniquely challenging year for everybody, so any 'traditional' celebration was off the table.

That's why we decided to move our birthday party online, sharing playlists, prize draws, memories and quizzes for everybody to be a part of!

Here's a taste of what we all got up to...
Interviewing David Neville
We caught up with David Neville, the Managing Director of Volac's Animal Nutrition business, who's been working with us for 28 years at the core of the Company his grandfather established 50 years ago.

He shared his thoughts of Megalac over the past 35 years and gave a glimpse at what the next 35 years may bring.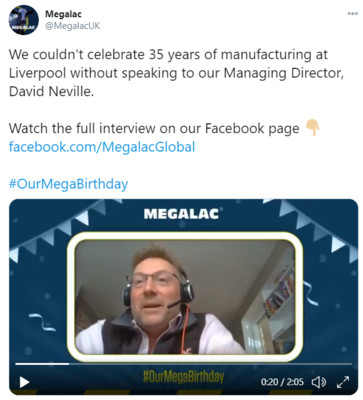 Needless to say, it was great to hear some of his experiences and memories from working with the Megalac team. But an interview isn't exactly a 'classic' birthday party activity, is it?

Of course not! You didn't think we'd leave things there, did you?
Let's Get Quizzical!
Have you ever found yourself wondering things like:
How much Megalac has been produced in the last 35 years?
What songs mention cows in the lyrics?
What noise do cows make?
Who hasn't, right? That's why we took it upon ourselves to challenge David's in-depth industry, company, and bovine expertise with the #OurMegaBirthday quiz!

We weren't content to finish the fun with just David, so our very own Laura Steeden continued to put team members through their paces with her quick-fire questions.

Jackie Bradley and Sam Sampson were up next: if you're still not 100% certain what noise cows make, be sure to watch through to the end to see Jackie crack that particular mystery with gusto!
MOOsic to our ears
What's a party without a breathtaking playlist of birthday bangers?
In the build-up to the big day, we reached out to our followers for apt song selections, and we were not disappointed!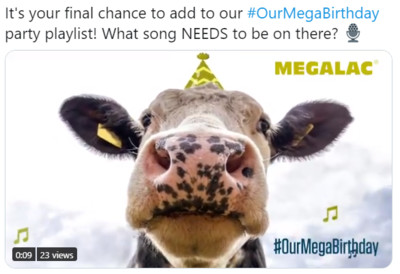 Featuring stone-cold 1980s classics from the likes of Kool & The Gang, through birthday disco mainstays like Stevie Wonder - not to mention a (frankly surprising) number of farm-themed gems - it's hard not to love the finished list.
Needless to say, if you ever find yourself in need of some toe-tapping tunes to help you through a long day, you can't go far wrong with this hand-picked birthday soundtrack!

Click here to listen to the #OurMegaBirthday Spotify playlist for yourselves.
Many Magical Memories
It should come as no surprise that, since 1985, there are more than a good few memories of our Liverpool teams and factory to share.
Across our social media channels, we made sure to share some of our favourite pictures from the last 35 years.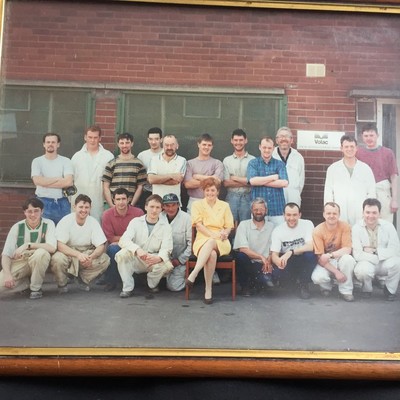 As we all love a little nostalgia from time-to-time, we asked you to share some of your favourite farming memories too. Cue some wonderful pictures, like this one from @BeccaHodg!
With this, the #OurMegaBirthday checklist was nearly complete. We had games, music, memories… and that just left the cake!
The Final Slice
Nailed it.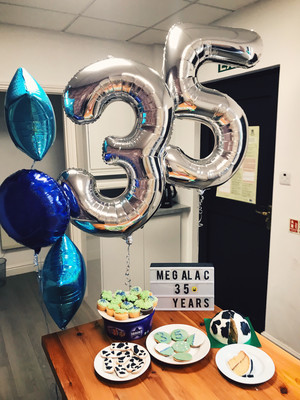 Of course, due to social distancing, sharing the cake proved challenging. But a dedicated few managed to valiantly work their way through it.

We will have to make sure we make up for lost time - and cake - in 2021!
A very different, but very Happy Birthday
2020 has been unlike any we've known, but even with social distancing, remote working, isolation, 'bubbles' and all, we are thrilled that we managed to find some different, exciting ways to celebrate a very big, very special anniversary with everybody.
35 years of business is no mean feat, and it's a testament to our fantastic teams who continue to make everything possible, not to mention our dedicated customers, friends and families.
#OurMegaBirthday party was a heap of fun to host, and every second of it was to celebrate - and thank - every last one of you.
We hope you enjoyed it as much as we did!