Here at Volac Wilmar Feed Ingredients (VWFI), our people make us who we are. Without every team member's dedication and expertise, we simply wouldn't be where we are today.
So, we're seizing the opportunity to introduce you once again to another colleague who helps us maintain our trusted reputation within the livestock nutrition industry.
This time, we're catching up with Lionel Margaka, Group Supply Chain Manager at VWFI.
Lionel, please tell us a little about yourself and your role at Volac Wilmar Feed Ingredients.
I've been with VWFI from the start, so I am in my 6th year. But before VWFI, I have been with Wilmar for 8 years, so 14 years in total. I'm responsible for the group's overall supply chain and purchasing raw materials and finished products. This includes movements within the bigger family (from Wilmar and Volac), within Volac Wilmar itself (VWSB & VWFII) and, of course, towards our customers.
So, what's your favourite part of the job?
By far, the best aspect of my job is that we're active across the globe, and that means that we can finally go for world domination! This also means that I'm allowed the opportunity to interact with so many different people in different countries around the world, and in any other year, I'd visit them, which is awesome!
What was your highlight of 2020?
I think it's safe to say that anything that could be regarded as remotely 'normal' was a highlight in 2020! One of these things was being able to go out for dinner at one of my favourite restaurants (of course, following COVID rules). Another great thing was that I was able to see my better half more throughout the year. Those little things that we take for granted certainly became more special.
What challenges have you faced this year, and what have you learnt from them?
The year 2020 brought many challenges in both work and personal situations. The team here was down one of our key-players, which added to the pressure, but she had a very joyous reason to be off work! 2020 was also the year where COVID and Brexit kept us busy for a fair share of our time. It taught me that we should spend more of our precious time on things that matter.
Have aspects of your role changed in light of the pandemic? How have you remained positive?
It's not a direct change in my role per se, but one adjustment that I'm still getting used to, is missing the hustle and bustle of my colleagues around me. In general, I'm a positive person, so I haven't changed much to remain positive.
What effects do you think Covid-19 has had on the industry long term?
I don't believe the industry itself will change too much as our habits won't go away after a year or (hopefully not too much) longer. Pandemic or no pandemic - there is still a demand for meat and dairy, and livestock still requires premium nutrition. Flexible working places, however, are definitely an aspect of business that will keep on growing.
Now we get to know the real Lionel as we delve into his interests and aspirations outside of work.
Do you have any pets? If so, tell us more!
We actually only welcomed our very first pet into our home not too long ago. She's a labradoodle, and her official name is Duchess Harper of de Omloop, but we just call her Harper :) She's got a brilliant personality and definitely brings some energy to the house!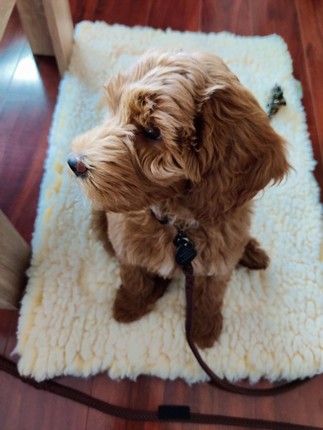 What's your favourite movie of all time?
I'll go with La La Land as it's a recent one.
Other very worthy mentions are Cool Runnings, Gladiator, Star Wars, Reservoir Dogs and Rurouni Kenshin: Trust & Betrayal, an anime movie. I know the genres are very different...
Which country is on your travel bucket list?
Next top two countries on the travel bucket list are New Zealand and Japan.
Tell us one interesting fact about yourself…
Hmm… Let's go with the fact that I read a lot (at least in my opinion) and actual paper books (I love the smell). I use the app Goodreads to track and record handy things for me, including how I read 21 books in 2020 (target was 18), of which the shortest was 55 pages and the longest 803 pages.
The End...
Like all good books, our chat with Lionel has come to an end, but we're sure that this is far from the last you'll see or hear from him here at Volac Wilmar Feed Ingredients. Always a ray of positivity in the business and helping us steer through the challenges of Coronavirus and Brexit, he's a truly valued member of the team.
If you'd like to meet another team member, the 'herd' at Megalac recently caught up with Neil Birkett – our GB and Export Feeds Fats Manager. You can read the blog here.

Enjoyed this read? Stay connected with everything Volac Wilmar on Twitter and LinkedIn.