Fats are a true power-house energy source, boasting benefits that go far above and beyond those offered by strict forage, grazing and cereal-based diets. And when it comes to managing ruminant performance, they are a vital piece of the nutritional puzzle.
It's not as simple as adding any old fat supplement into your herd's diet, however! Ensuring your fat supplement of choice is rumen-protected is crucial to maintaining positive digestive health, while offering a heap of additional benefits.
Watch the video below to learn more about rumen-protected fats and why they're such an important part of your herd's diet.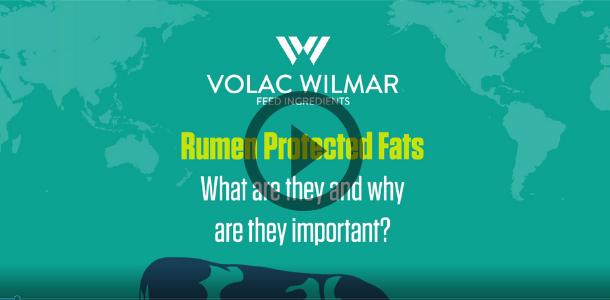 Fats and Fatty Acids
Understanding the precise role fats and fatty acids play in managing ruminant health ensures you can make strong, informed nutritional decisions on a case-by-case basis.

You can learn more about fats as part of balanced ruminant and monogastric diets here.
Recently Paul Fransen, Business Development Manager for Fats at Volac Wilmar Feed Ingredients broke down the fundamental differences between fats and fatty acids in a series of handy short videos.
Click here to Learn where fats actually go.
Click here to Learn what the differences between fats and fatty acids are.
As always, if you have any further questions about fats, fatty acids, or other elements of ruminant nutrition, feel free to contact us. And don't forget you can also follow us on Twitter and LinkedIn too.