The countdown is on to EuroTier 2022. Join us at Hannover, from 15th - 18th November, for a week of networking, stimulating discussions, and some rather insightful presentations!
EuroTier comes at a time when plans for winter are already in full swing and new, unprecedented challenges are cropping up almost weekly. This sets it up as a great opportunity to learn from experts and colleagues alike, and the chance for attendees to share their own experiences and thoughts on the changing face of all things dairy farming - and beyond.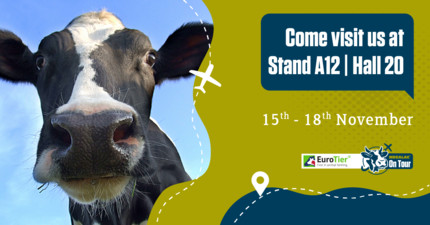 Visit Volac Wilmar on stand!
We'll be there, on Stand A12 | Hall 20 with a team of experts from Volac and Volac Wilmar, ready to share our knowledge, discuss the ins and outs of dairy nutrition and showcase our ever-evolving range of Megalac products and services.
Back in 2018 we used EuroTier as the platform for our global launch of Mega-Max.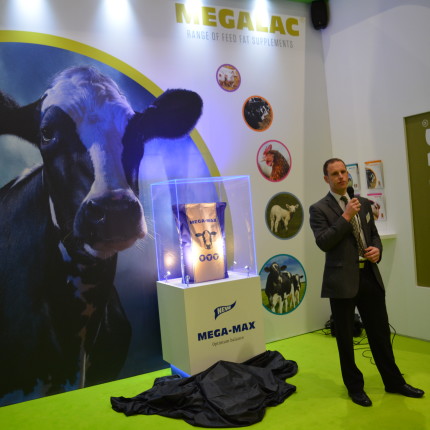 >>> Learn more about Mega-Max and our full range of products here <<<
This time we have another exciting launch - we will be showcasing our newest tool; The Volac Wilmar Feed Ingredients Feeding Fat ROI Calculator.
The Feeding Fat ROI Calculator will help accurately track, manage, and understand the true business impact of feeding fats. Tracking every cent is always important, but with the cost-of-living crisis and prices rising across the board, it's imperative that farming businesses are operating at peak financial efficiency.
>>> Learn more about calculating your feeding fat ROI <<<
Be sure to come by our stand to say "hello", receive some of the latest dietary and nutritional advice to improve the performance of your herd, or receive support with any dietary challenges you might be facing.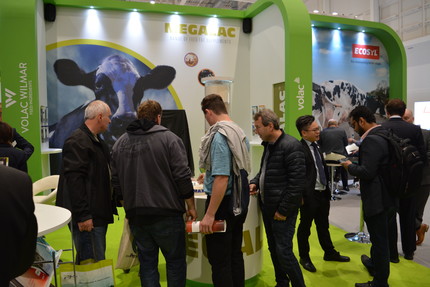 As always, sustainability is at the heart of everything we do, so we will be actively discussing Volac Wilmar's sustainability policies.
Volac Wilmar aims to set the bar high for sustainable and ethical sourcing of raw materials, with a keen focus on palm oil. We are vocal in championing the vital role fatty acids play in the production of sustainable and efficient livestock nutrition, and we continue to strive to ensure these ambitions are met.
-
Volac Wilmar - on stage
Throughout EuroTier 2022 we are pleased to announce that we will also be hosting a series of presentations, covering some of these key subjects…

ROI Feed Fat Calculator Demo

Paul Fransen, Technical Business Manager for Europe at Volac Wilmar, will be taking the stage twice daily to showcase our new Feeding Fat ROI Calculator and explore how farming businesses can maximise their spending efficiency.


VWFI Palm Oil Sustainability and Traceability Presentation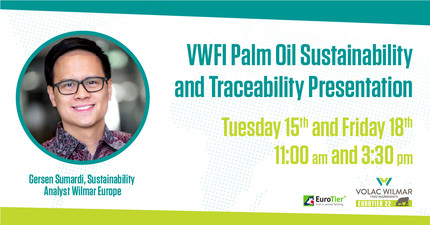 In sessions on Wednesday, Thursday, and Friday, Gersen Sumardi, Sustainability Analyst for Wilmar Europe, will be discussing palm oil sustainability and traceability. We are passionate advocates of sustainable and ethical palm oil, and wholeheartedly believe it has a vital role to play in achieving true global food security - so we're sure you will find this an insightful and informative session!
>>> Learn more about Volac Wilmar's sustainability policies <<<
The countdown begins…
There's a lot to look forward to at this year's EuroTier event. From presentations, demos, advice and the chance to talk business with specialists from across the global farming industry, it is a week you won't want to miss.
If you are unable to attend the event in person, we will be sharing the action from the show floor across our social media channels. Be sure to follow us on Twitter, LinkedIn, and Facebook for all the latest updates, presentation live streams, and event highlights.
However you choose to join us, we look forward to including you in all #EuroTier22