April 14, 2023
Low March inventories see April palm market gains
1 RM (Malaysian Ringgit) = 0.23 USD
1 USD = 0.80 GBP
*Exchange rates calculated on April 13
Malaysia palm prices CPO Settlement Price RM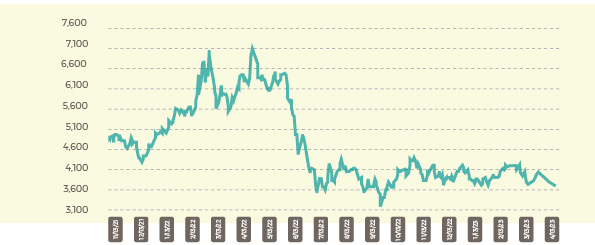 Following a 17-week high of 4,352 RM/tonne ($986.29) on March 3, Malaysia's Crude Palm Oil (CPO) settlement price went into decline for the remainder of the month, closing at 3,761 RM/tonne ($852.35) on March 31. Going into April, the market has made modest gains, seeing a high of 3,966 RM/tonne ($898.81) on April 4. As of April 13, the CPO settlement price had declined to 3,713 RM/tonne ($841.47).
Analysis: Palm oil gains on smaller March inventories
In reporting by Reuters, the overall increase in Malaysia's palm oil futures was attributed to low March inventories.
"Malaysia's palm oil inventories at end-March plunged 21.08% from the previous month to 1.67 million tonnes as exports surged, data by the Malaysian Palm Oil Board showed on Monday," says the report.
To read more about other contributing market factors, click here.
Disclaimer: The information in this document has been obtained from or based upon sources believed to be reliable and accurate at the time of writing. The document should be for information purposes only and is not guaranteed to be accurate or complete.