August 16, 2023
Palm oil prices back from July rally but outlook remains bullish
1 RM (Malaysian Ringgit) = 0.22 USD
1 USD = 0.79 GBP
*Note, exchange rates are for August 15
Malaysia palm prices CPO Settlement Price RM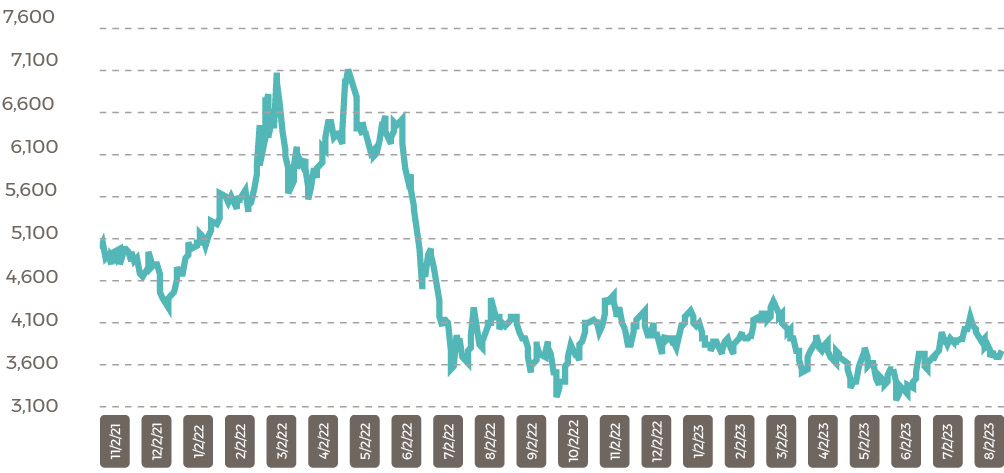 After seeing a four-month high of 4,164 RM/tonne ($916.37) on July 24, Malaysia's Crude Palm Oil (CPO) settlement price has declined in the first half of August. Following July's average CPO settlement price of 3,952 RM/tonne ($852.55), August hit a low of 3,693 RM/tonne ($796.68) on August 8, rebounding to 3,788 RM/tonne ($817.17) by the 15th.
Analysis: Rival oil supply issues boost palm oil demands
According to reporting by Reuters, palm oil is seeing a demand increase as primary producers of soybean oil and sunflower oil face supply issues. Soybean oil forecasts are down in the US due to drought impacting this year's crop, as Argentia also has fewer supplies to export. In the Black Sea region where 60% of world sunflower oil is produced, export prices have increased due to Russia withdrawing from the Black Sea grains deal.
"This surge in demand is expected to assist Indonesia and Malaysia in bringing down their palm oil inventories, simultaneously bolstering Malaysian palm oil futures," reports Reuters.
Disclaimer: The information in this document has been obtained from or based upon sources believed to be reliable and accurate at the time of writing. The document should be for information purposes only and is not guaranteed to be accurate or complete.