August 23, 2022
Soybean oil rally contributes to CPO recovery
1 RM (Malaysian Ringgit) = 0.22 USD
1 USD = 0.85 GBP
Malaysia palm prices CPO Settlement Price RM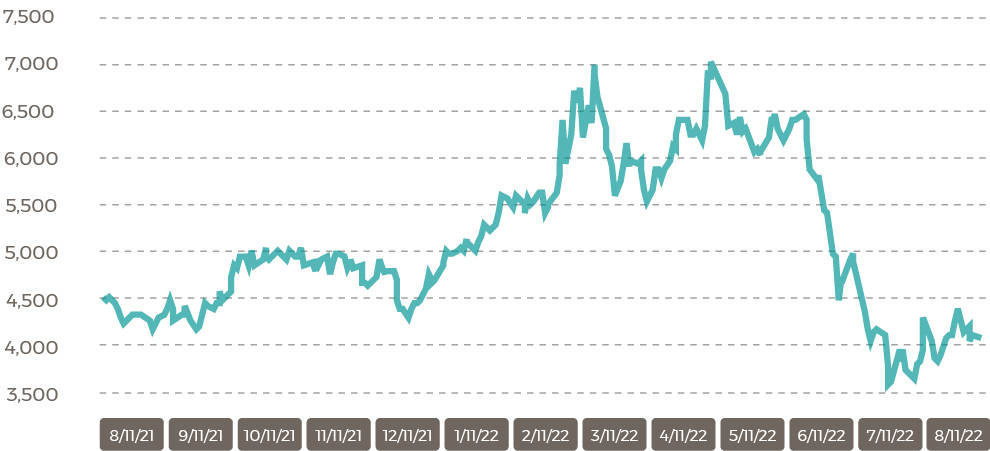 Following a month long plunge, Malaysia's Crude Palm Oil (CPO) settlement price hit a 12-month low of 3,568 RM/tonne ($795.54) on July 14.
While the market has remained volatile since the drop, it has trended upward, closing at 4,068 RM/tonne ($907.02) on August 22.
Throughout July, Malaysia's CPO settlement price averaged 3,922 RM/tonne ($874.47), with a high of 4,350 RM/tonne ($969.90) on July 4. Up to the 22 of the month during the writing of this report, August CPO prices have averaged 4,071 RM/tonne ($907.02), seeing a high of 4,407 RM/tonne ($982.61) on August 12.
Soybean oil rally lifts vegetable oil market
While CPO prices remain relatively low, the slow recovery is attributed to bullish soybean oil markets as supplies remain tight.
According to Olenex's Week #33 Oil Market Report, soybean oil increased more than 8 percent. Soybean oil is a close substitute for palm in food and fuel usage, with price movement leading to increased competition for related oils.
With Indonesia's government waiving its export levy on palm products until August 31, it is expected Malaysia will continue to see intense competition in the CPO market, reports Olenex.
Disclaimer: The information in this document has been obtained from or based upon sources believed to be reliable and accurate at the time of writing. The document should be for information purposes only and is not guaranteed to be accurate or complete.