August 3, 2023
Crude palm oil hits 4-month high, global container rates see 5% increase
1 RM (Malaysian Ringgit) = 0.22 USD
1 USD = 0.79 GBP
*Exchange rates calculated and market prices reported on August 2
Crude Palm Oil
Average April Palm Oil Export Prices
Indonesia
$840/tonne (-$73/tonne)

Malaysia
$814/tonne (-$72/tonne)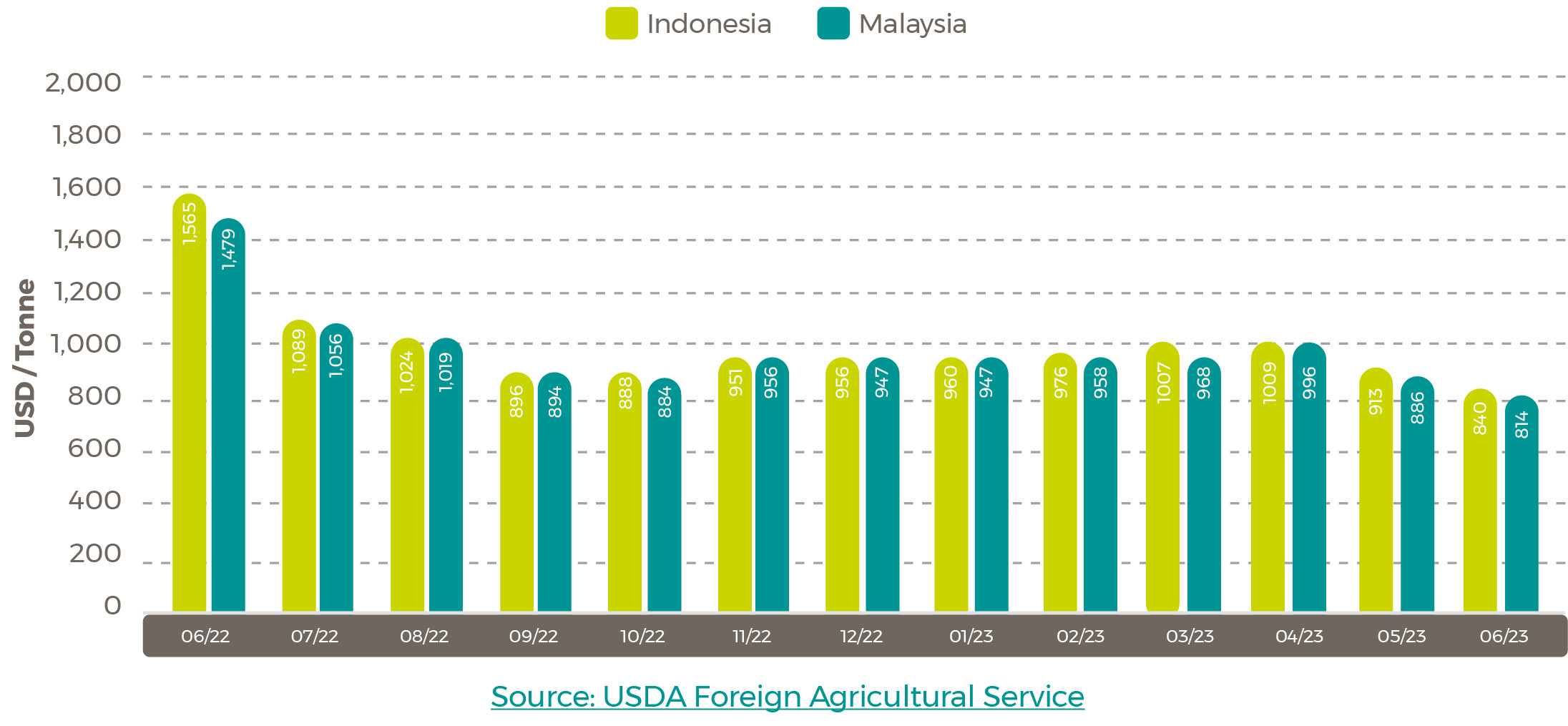 Source: USDA Foreign Agricultural Service
Malaysia palm market

Malaysia's Crude Palm Oil (CPO) settlement price continued its climb from June throughout July, topping June's average CPO price by 421 RM/tonne ($92.65) for an average price of 3,952 RM/tonne ($869.72).
While prices trended upwards, there was volatility throughout the month. Starting July 3 at 3,985 RM/tonne ($876.98), the lowest price of the month was seen on July 7 at 3,834 RM/tonne ($843.75). By July 24, the CPO settlement price reached its highest since early March at 4,164 RM/tonne ($916.37) and then dropped to 3,878 RM/tonne ($853.43) by the 31st.
According to the Week 30 Olenex Oil Market Report, the palm market rally is a combination of intensified attacks from Russia on Ukrainian port infrastructure destroying agricultural products, and anticipated export increases.
"(The palm market) also jumped due to optimism over July export. 1-25 July Malaysia's palm oil exports rose by 10.78% from the month before, according to AmSpec and by 17.79% according to ITS," reports Olenex.
"Malaysia's palm export to India is already very strong in July and this could see a sustained rise in August as importers take advantage of the wide palm discount to bean oil and on bets of suspension of sunflower oil supply from the Black Sea region which makes greater reliance on palm oil raising prospect of higher exports, easing stocks and supportive prices."
Malaysia CPO Settlement Price RM

Soybean oil
June 2023 Soybean Oil Export Prices $/tonne

Soybean oil exports prices increase
As much of the US Corn Belt experiences drought, soybean export prices have seen an increase from forecasted supply reductions. This has boosted soybean oil exports, reports USDA.
"This shift in dynamics further widened the premium for U.S. soybean oil over South America origins. U.S. soybean oil FOB prices are now nearly $400/ton more expensive than the largest exporter, Argentina. Notably, palm oil prices resumed trading at a normal discount to soybean oil this month in part due to higher Malaysia palm oil stocks," reports USDA.
Average 2021/23 Soybean Oil Prices $/tonne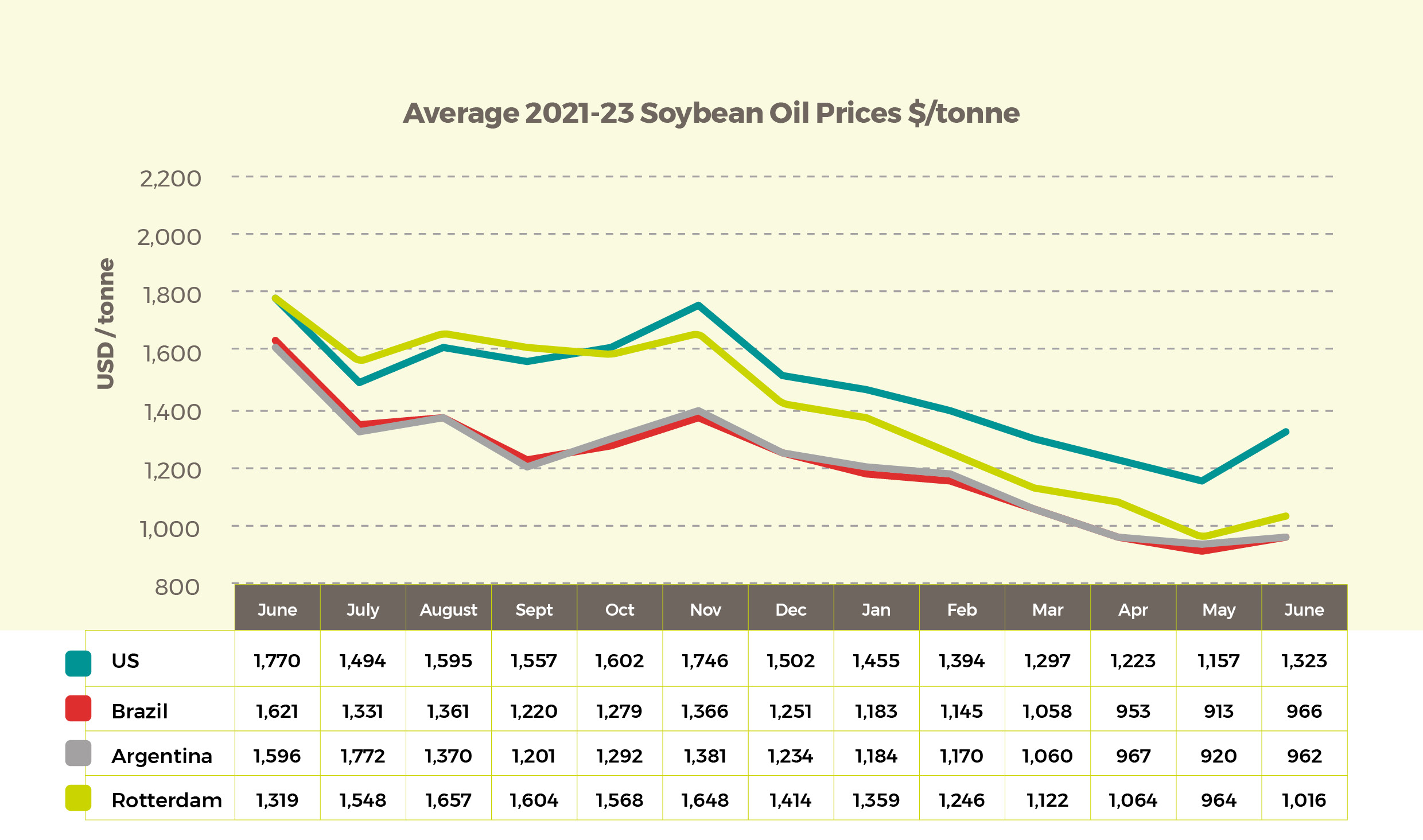 Rapeseed oil
Average 2021/23 Rapeseed Rotterdam (Canola) Oil Prices $/tonne


Sunflower oil
Average 2021/23 Sunflower Seed Oil Prices $/tonne

Shipping Update
Global container rates increase by 5% since the end of June
From June 25 to July 27, Drewry's composite World Container Index increased by 5.4%. This is the first notable price increase seen in more than a year. Compared to the same week in 2022, prices are down 76.7%.
From the July 27, 2023, Drewry World Container Index report:
The latest Drewry WCI composite index of $1,575.62 per 40-foot container is now 85% below the peak of $10,377 reached in September 2021
It is 41% lower than the 10-year average of $2,684, indicating a return to more normal prices, but remains 11% higher than average 2019 (pre-pandemic) rates of $1,420
The average composite index for the year-to-date is $1,770 per 40ft container, which is $914 lower than the 10-year average
Shanghai – Los Angeles soared by 6% or $122 to $2,087 per 40ft container
Shanghai – New York rates rose by 5% or $143 to $3,049 per 40ft box
Rotterdam – New York decreased by 3% to $50 to stand at $1,590 per feu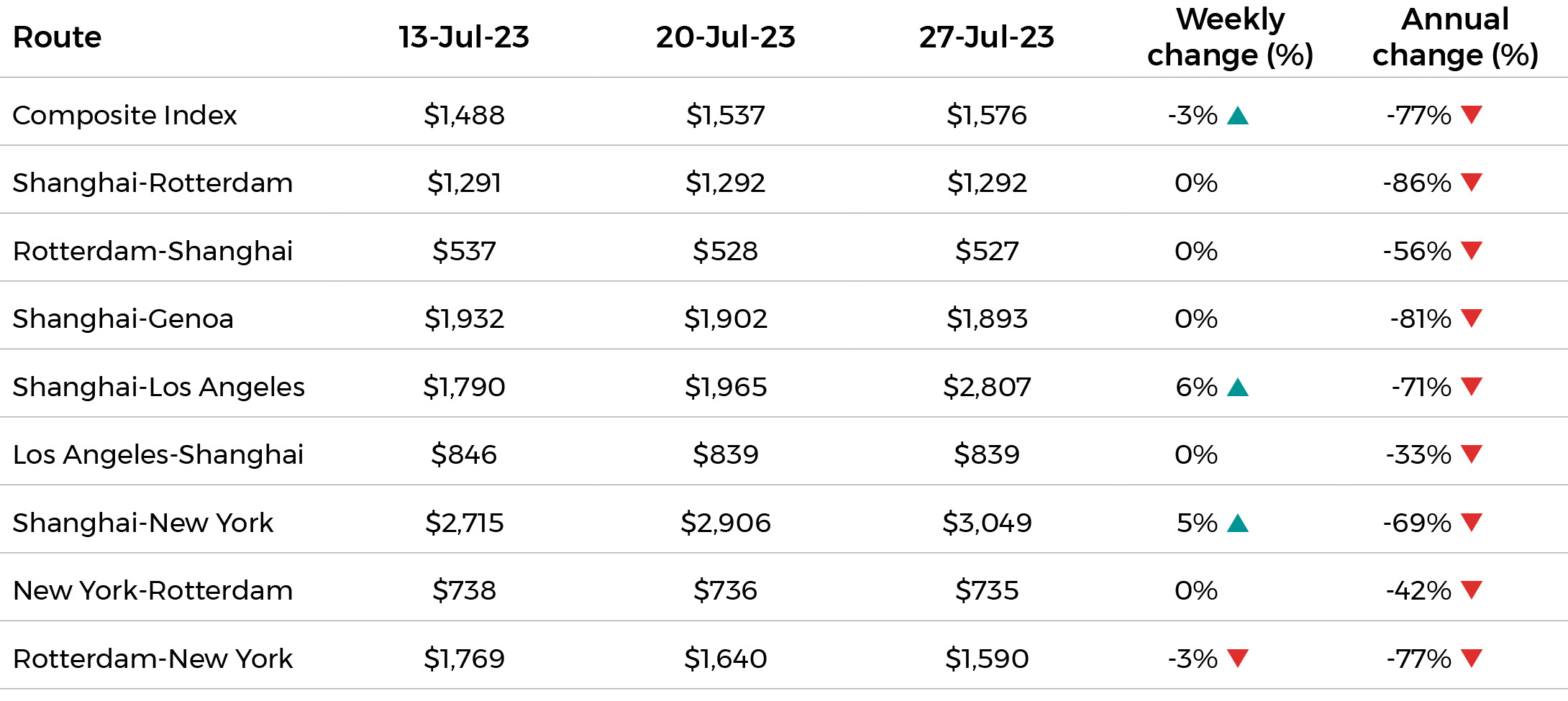 Source: Drewry Supply Chain Advisors
View Drewry shipping data here.
Disclaimer: The information in this document has been obtained from or based upon sources believed to be reliable and accurate at the time of writing. The document should be for information purposes only and is not guaranteed to be accurate or complete.