December 1, 2022
Palm oil outlook looks "grim" – December box rates could hit pre-Covid levels
1 RM (Malaysian Ringgit) = 0.22 USD
1 USD = 0.84 GBP
*Exchange rates calculated and market prices reported on November 30
Crude Palm Oil
Average October Palm Oil Export Prices
Indonesia
$888/tonne (-$8/tonne)

Malaysia
$894/tonne (-$10/tonne)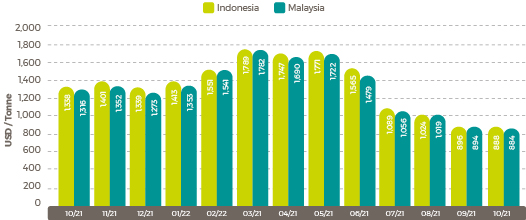 Source: USDA Foreign Agricultural Service
Malaysia palm market

Malaysia's Crude Palm Oil (CPO) settlement prices inched forward throughout October starting the month off on a low of 3,426 RM/tonne ($723.32) on the 3rd, reaching a high of 4,147 RM/tonne ($875.54) on October 27. Following a dip to 3,989 RM/tonne ($842.18) the following day, the month closed at 4,054 RM/tonne ($855.91) on October 31.
After seeing relief in prices throughout September as Indonesia grappled with growing stocks due to its export policy adjustments, the average daily October CPO settlement price sat 191 RM/tonne ($40.33) higher as markets regained footing.
According to the Week #42 Oil Market Report released by Olenex, price increases were influenced by the uncertainty of sunflower oil and grain shipments from Ukraine and reported sharp drops in soybean oil stocks.
Malaysia CPO Settlement Price RM

Soybean oil
September 2022 Soybean Oil Export Prices $/tonne

Soybean oil makes gains
After seeing declines throughout September, soybean oil export prices made gains in October. According to USDA, strengthening crude oil prices and positive sentiments across the vegetable oil market drove the increase.
Average 2021/22 Soybean Oil Prices $/tonne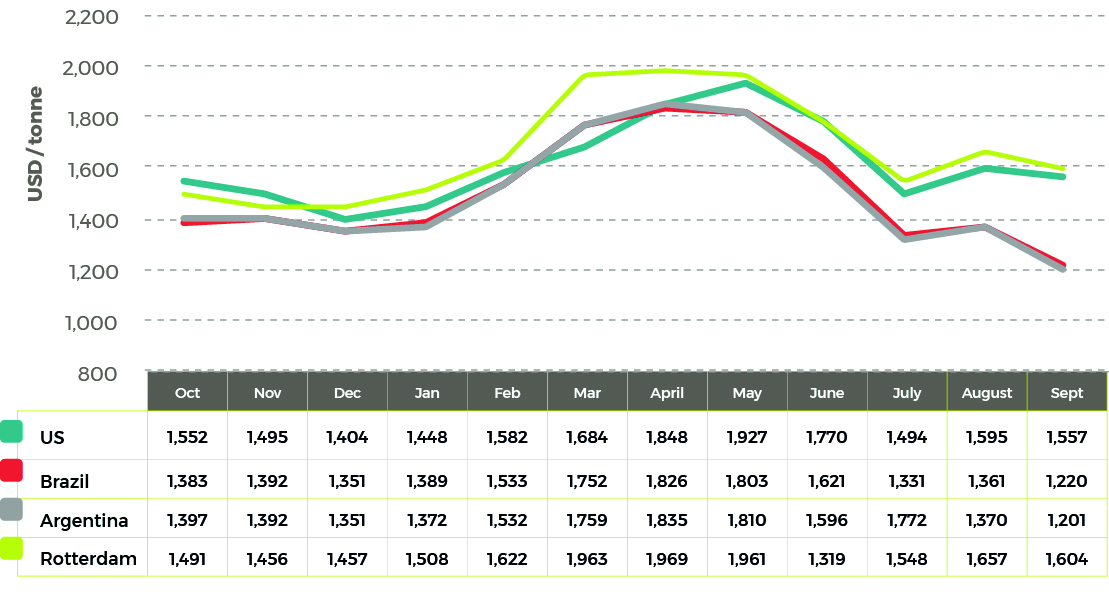 Rapeseed oil
Average 2021/22 Rapeseed Rotterdam (Canola) Oil Prices $/tonne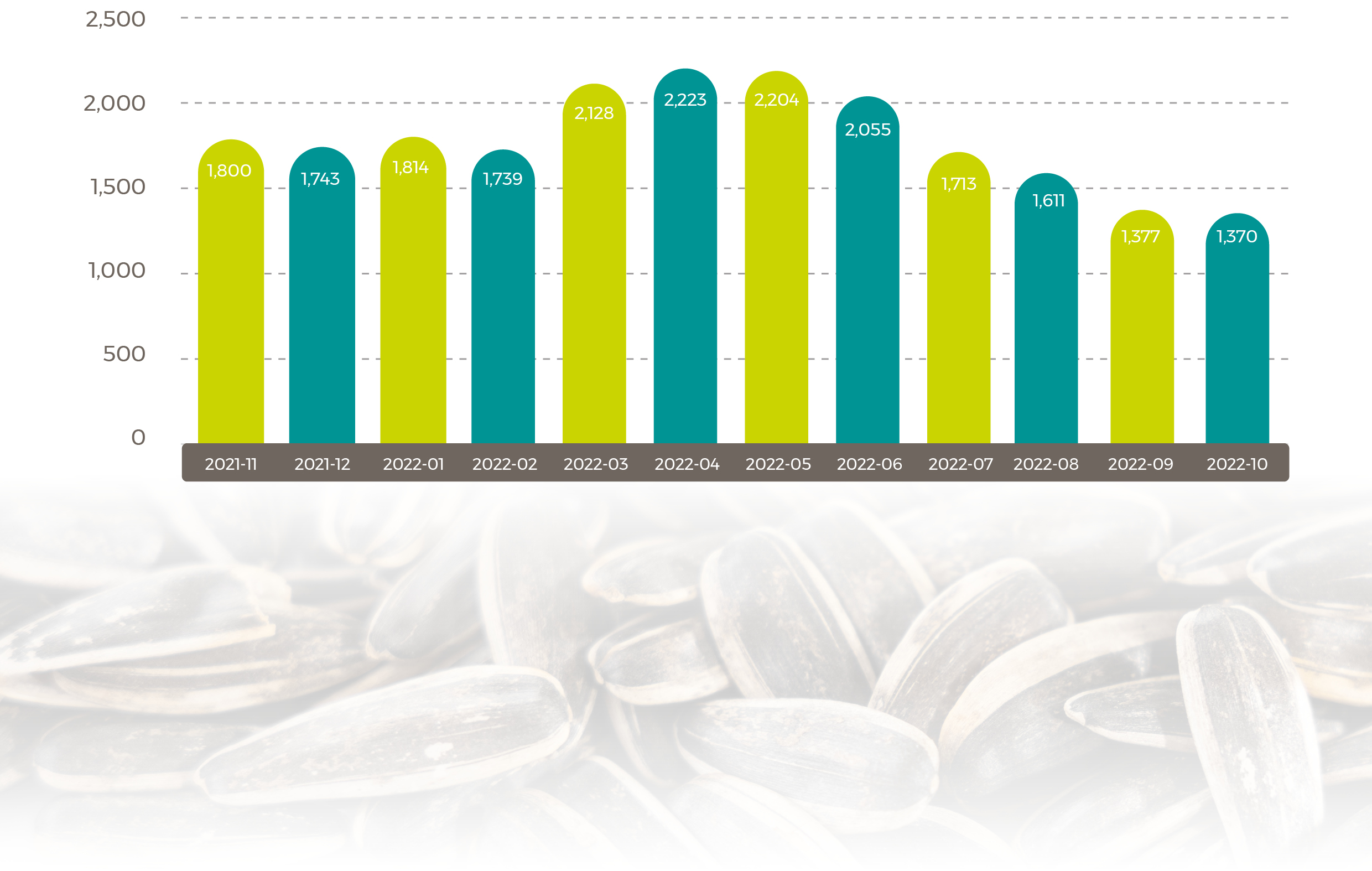 Sunflower oil
Average 2021/22 Sunflower Seed Oil Prices $/tonne

Shipping Update
Box rates could deteriorate to pre-Covid levels in December
The current rate of decline in the Shanghai Containerized Freight Index (SCFI) could see box freight levels dip to pre-pandemic levels during December.
"On 18 November, SCFI stood at 1,307 points, plunging 74% from an all-time high of 5,110 points on 7 January, and bringing the index near the 1,000 points seen in January 2020, just before the Covid-19 crisis erupted," reports Container News. "Shanghai-North Europe freight rates, having peaked at US$15,600/TEU on 14 January, dived to US$2,350/TEU on 18 November. On the same date, Shanghai-US West Coast rates fell to U$1,550/FEU, from a high of US$8,100/FEU in February. Shanghai-US East Coast routes lost 67%, from a high of US$11,800/FEU in January to US$3,900/FEU on 18 November."
Inflation and rising energy prices have reduced consumer spending which has resulted in a decline in cargo demand.
Container shipping congestion declines as world trade volumes drop in October
According to Kiel Trade Indicator Data, world trade volumes saw a 0.8 percent drop in October, indicating receding world trade volumes.
"Since the beginning of the year, freight rates from China to Northern Europe have fallen by around two thirds. For the first time in around two years, prices for a standard container are below $5,000," reports Hellenic Shipping News.
Around 10 percent of goods shipped globally are in congestion, says the report.
The world's largest economy – the US – had no change in import levels, but saw a 2.7 percent decline in exports.
Europe's largest economy – Germany – saw a decrease in imports by 0.9 percent, and a decrease in exports by 0.2 percent.
Asia's largest economy – China – saw a 0.9 percent decrease in imports and a 10.1 decrease in exports.
Read more from Hellenic Shipping News
Disclaimer: The information in this document has been obtained from or based upon sources believed to be reliable and accurate at the time of writing. The document should be for information purposes only and is not guaranteed to be accurate or complete.