February 8, 2023
Palm oil and shipping container rates pull back
1 RM (Malaysian Ringgit) = 0.24 USD
1 USD = 0.81 GBP
*Exchange rates calculated and market prices reported on February 2
Crude Palm Oil
Average October Palm Oil Export Prices
Indonesia
$956/tonne (+$5/tonne)

Malaysia
$947/tonne (-$9/tonne)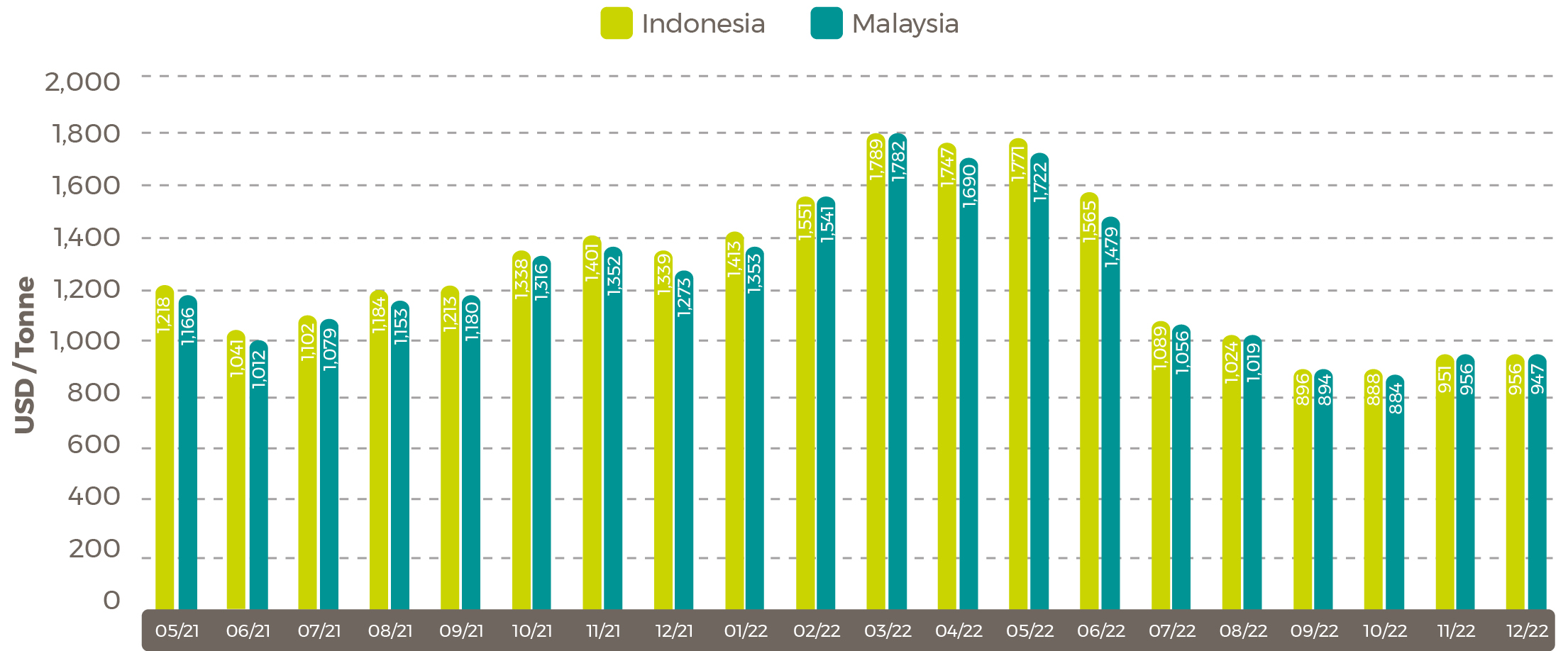 Source: USDA Foreign Agricultural Service
Malaysia palm market

Following a volatile December, Malaysia's Crude Palm Oil (CPO) settlement prices went into a downward trend in the first month of 2023. Starting January 3 off at a high of 4,253 RM/tonne ($1,001.65), prices closed on the 31st at 3,815 RM/tonne ($898.49). The lowest point came on January 25 when prices closed at 3,795 RM/tonne ($893.78).
With a January 2023 average of 3,937 RM/tonne ($927.23), CPO settlement prices are well below January 2022 when they averaged 5,170 RM/tonne ($1,217.62).
EU to ban imported goods linked to deforestation – what does this mean for palm oil?
By as early as 2024, goods linked to deforestation will be illegal to import and sell in the European Union. The agreement was made in early December by the EU Parliament and the Council in an effort to end the EU's contributions to global deforestation and will require companies to "conduct strict due diligence" in linked goods. Once formally implemented, larger companies will have 18 months to become compliant and small companies will have 24 months.
Among the commodities listed are palm oil and some palm oil derivatives. Roundtable of Sustainable Palm Oil's deputy director Ruben Brunsveld told FoodNavigator that the organisation does not foresee the sector being as impacted as other sectors – and in fact may be in a stronger position due to the groundwork already being implemented by sustainability organisations certifying 93% of palm imports into Europe.
According to RSPO, there will be challenges for companies that need to get their supply chains ready. However, the organisation believes there is also an opportunity to highlight to the EU the reduction in deforestation related to palm production in the last 30 years.
For Volac Wilmar Feed Ingredients (VWFI), internal policies and third-party audits have been integral to maintaining a high level of sustainability and traceability within its supply chain.
Megalac RSPO SG comes with one of the highest levels of RSPO sustainability certifications (Segregated), reflecting physical segregation through the supply chain. Equally important VWFI's integration of NDPE policies and the introduction of the Implementation Reporting Framework to verify No Deforestation, No Development on Peat and No Exploitation of people and local communities.
Within VWFI's sustainability policy is 100% transparency and traceability for all palm derivatives and final products, allowing for traceability back through the supply chain back to mills.
To learn more about Volac Wilmar Feed Ingredients sustainability policies, click here.
Malaysia CPO Settlement Price RM

Soybean oil
December 2022 Soybean Oil Export Prices $/tonne

Soybean oil sees losses
In December, average soybean prices were slightly lower as bullish sentiments over drought conditions in Argentina were dragged downward by falling soybean oil prices.
"Ample global supplies of other oilseeds for crush eroded the support that soybean oil prices had previously provided to soybeans, with meal providing a larger share of value this month than the last. Weaker-than-expected China soybean purchases in the first quarter of the new marketing year likely also contributed to lower soybean prices, especially in Brazil," reports USDA.
Average 2021/22 Soybean Oil Prices $/tonne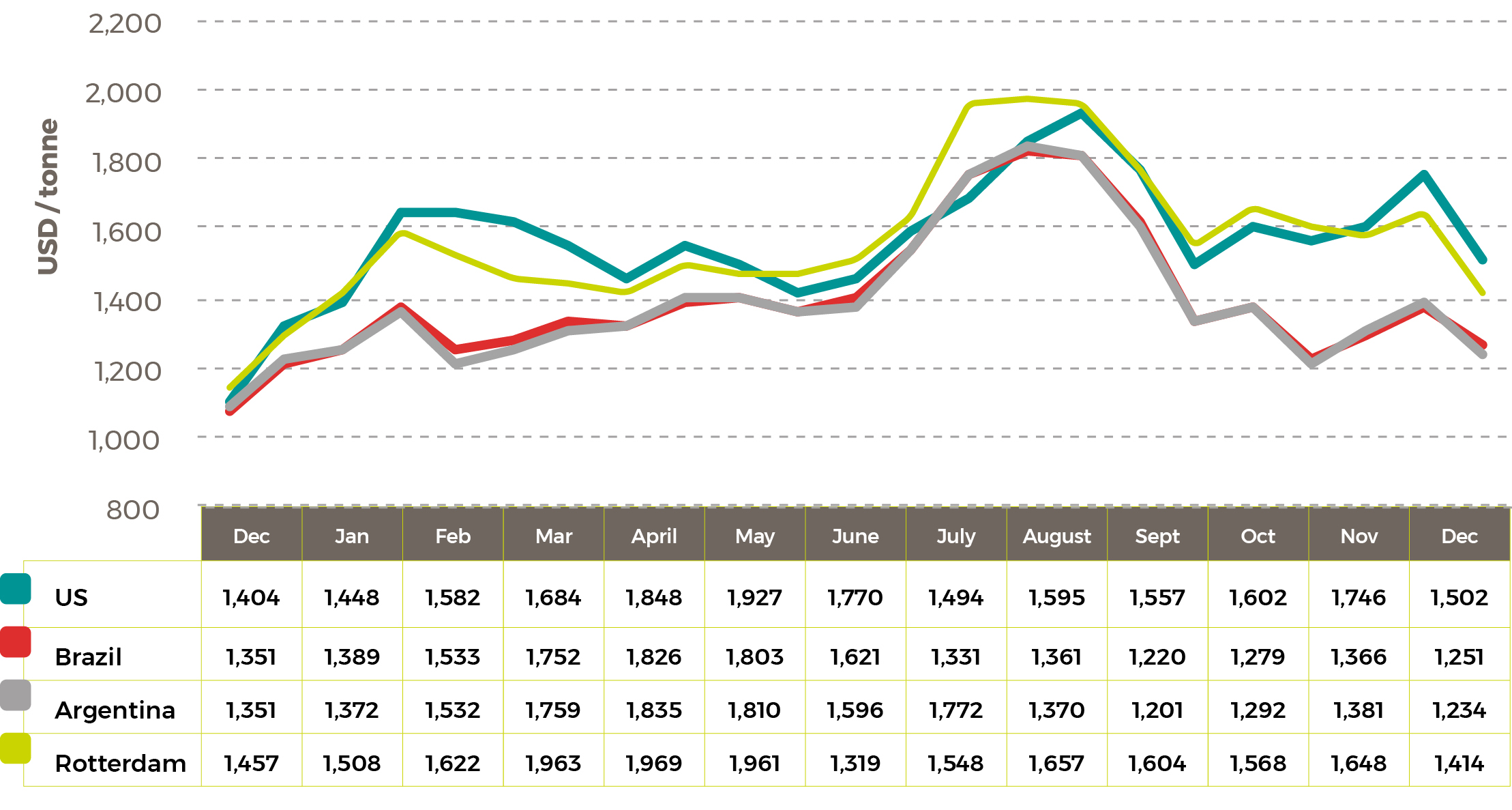 Rapeseed oil
Average 2021/22 Rapeseed Rotterdam (Canola) Oil Prices $/tonne


Sunflower oil
Average 2021/22 Sunflower Seed Oil Prices $/tonne

Shipping Update
Drewry's World Container Index continues to drop
The Drewry World Container Index continued its downward trend, decreasing an additional 1% to $2,033.70 per 40ft container on February 2. The maritime research and consulting firm expect small week-on-week reductions in rates in the next few weeks.
Key findings from the report outlined by Drewry below:
The composite index has decreased by 1% this week, and has dropped by 78% when compared with the same week last year
The latest Drewry WCI composite index of $2,034 per 40-foot container is now 80% below the peak of $10,377 reached in September 2021. It is 24% lower than the 10-year average of $2,693, indicating a return to more normal prices, but remains 43% higher than average 2019 (pre-pandemic) rates of $1,420
Dry Bulk Market: Capesizes Down More Than 50% in the Space of 10 Days
The dry bulk market is also seeing a decline, with the Capesize 5TC Index dropping more than 50% in 10 days towards the end of January. This index weighs an average of five different routes around the world, landing on $4,333 at the end of January for ships with a 150,000-tonne cargo capacity typically carrying coal and iron ore.
On the Baltic index, Capesize saw its five month at $4,137. The Panamax index, for ships with a 60,000 to 70,000-tonne capacity carrying coal or grain, decreased by 2.2%. However, daily earnings for Panamax vessels made a $202 gain to $9,262.
Read more on Hellenic Shipping News
Disclaimer: The information in this document has been obtained from or based upon sources believed to be reliable and accurate at the time of writing. The document should be for information purposes only and is not guaranteed to be accurate or complete.