July 10, 2022
Malaysian Palm Oil Board lowers expected average prices for second half of 2022 as CPO hits 12-month low
1 RM (Malaysian Ringgit) = 0.23 USD
1 USD = 0.84 GBP
Malaysia palm prices CPO Settlement Price RM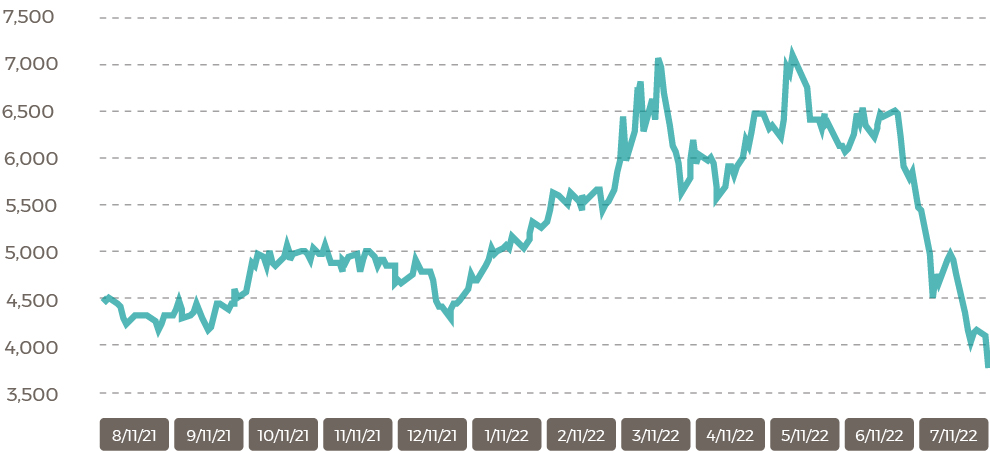 Crude Palm Oil (CPO) prices have taken a month long plunge into mid-July, with Malaysia's CPO settlement price hitting a 12-month low of 3,761 RM/tonne ($847.65) on July 13 during the writing of this report. Malaysia CPO settlement prices have not been at this level since closing at 3,733 ($841.33) RM/tonne on July 8, 2021.
MPOB lowers average CPO price for remainder of 2022 to 5,300 RM/tonne
Lower palm exports, higher global vegetable oil production and higher CPO production has led the Malaysian Palm Oil Board to lower the expected average price of CPO to 5,300 RM/tonne ($1,194.50) for the second half of 2022.
"This came after Malaysia recorded higher exports when the world's largest palm oil producer restricted its palm oil exports due to several measures implemented, such as the three-week export ban imposed from April 28 and domestic market obligation to ensure domestic supply availability," reports The Edge Markets.
"During 1H22, CPO was traded 55.9%, or RM2,268.50, higher at RM6,330 per tonne on average, compared with RM4,061.50 per tonne during January-June 2021. In May 2022, the average CPO price hit a record high of RM6,873 per tonne."
CPO production in Malaysia is expected to be 18.5 million tonnes, with 10.2 million tonnes alone being produced in the second half of 2022.
Improved weather conditions and an increased crop of mature trees are credited for increasing production by 2.1 percent from 2021. However, MPOB director-general Datuk Dr Ahmad Parveez Ghulam Kadir says labour shortages is still holding the industry back from achieving "business-as-usual" levels of nearly 20 million tonnes.
The country is expected to export 90 percent of its CPO throughout 2022, for an expected 16.65 million tonnes of exports.
To read the full report by The Edge Markets, click here.
Disclaimer: The information in this document has been obtained from or based upon sources believed to be reliable and accurate at the time of writing. The document should be for information purposes only and is not guaranteed to be accurate or complete.