July 4, 2023
Crude palm oil rallies, global container rates fall
1 RM (Malaysian Ringgit) = 0.21 USD
1 USD = 0.79 GBP
*Exchange rates calculated and market prices reported on July 3
Crude Palm Oil
Average May Palm Oil Export Prices
Indonesia
$913/tonne (-$96/tonne)

Malaysia
$886/tonne (-$110/tonne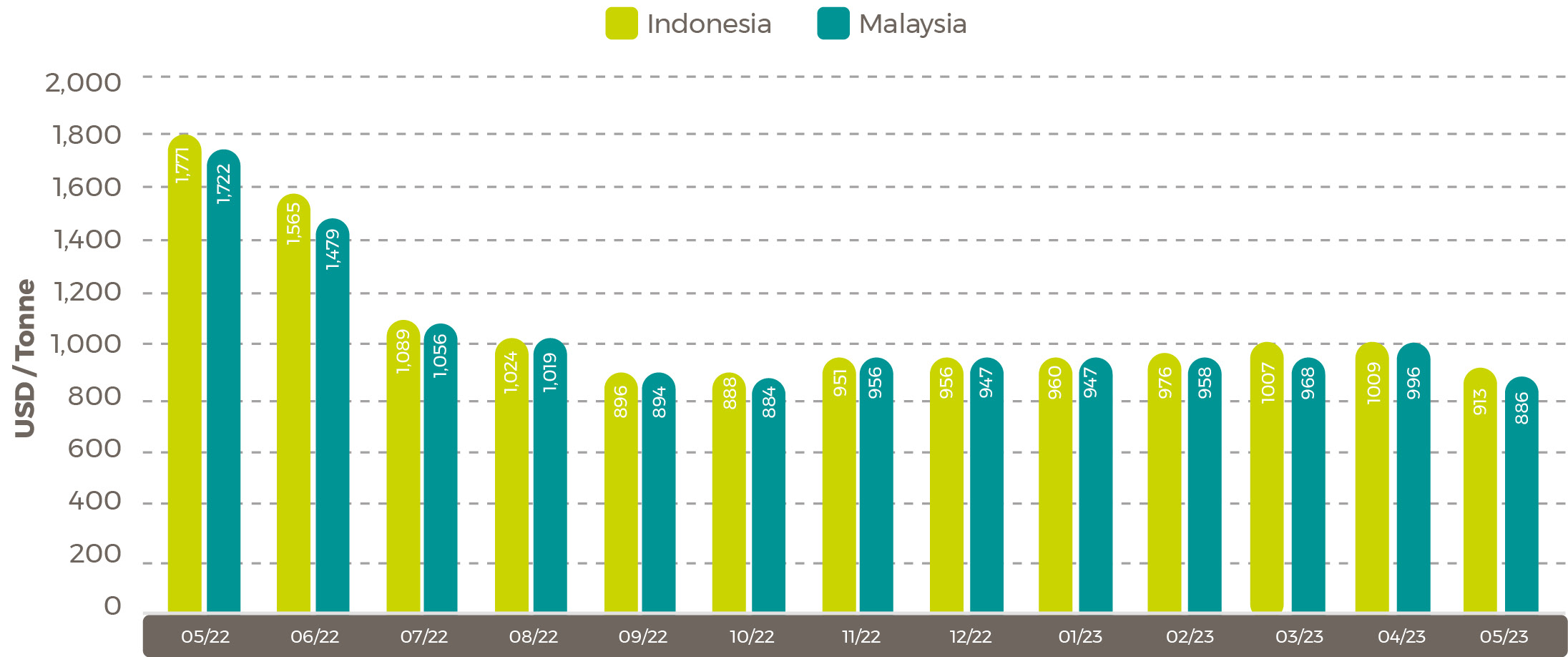 Source: USDA Foreign Agricultural Service
Malaysia palm market

After dipping to a 30-month low of 3,201 RM/tonne ($688.09) on May 31, Malaysia's Crude Palm Oil (CPO) settlement price rallied to a high of 3,789 RM/tonne ($814.49) on June 30.
The 18% increase within the month has been attributed to a combination of the ringgit trading lower against the dollar and the CPO market tracking soybean oil prices. According to reporting by Reuters, "Soyoil prices on the Chicago Board of Trade BOcv1 surged 7.3% in the previous session after the U.S. Department of Agriculture (USDA) reported much lower-than-expected 2023 soy plantings and June 1 inventories."
However, analysts aren't expecting the CPO market to remain strong throughout the rest of the year. International credit rating agency Fitch Ratings is expecting spot prices to decline over the next 12 months.
"Prices are likely to be pressured by steadily rising crude palm oil output and robust near-term market expectations for supply of competing vegetable oils," said Fitch Ratings in reporting by Reuters.
Malaysia CPO Settlement Price RM

Soybean oil
May 2023 Soybean Oil Export Prices $/tonne

Soybean oil exports down
Soybean export prices were pressured downward in May on favorable oilseed crop prospects, subdued demand from major importers, and declining energy prices.
"Brazil soybeans continue to trade at a discount on the global market, but U.S. and Argentina prices decreased at a faster rate in May, narrowing the gap. Global soybean meal prices continued to fall from their rally earlier this year, again largely driven by ample supplies, particularly from Brazil, where crush exceeded market expectations," reports USDA.
Average 2021/23 Soybean Oil Prices $/tonne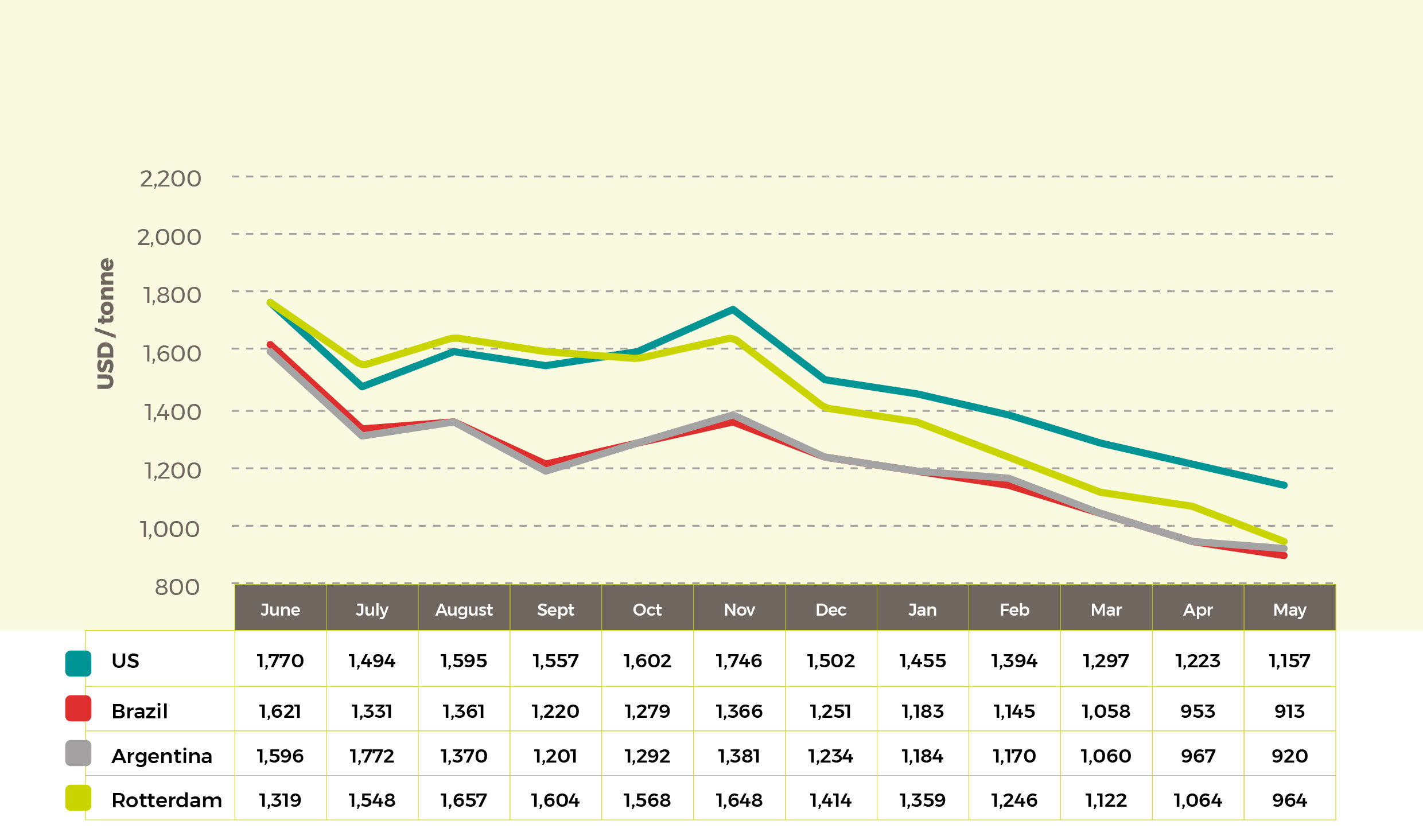 Rapeseed oil
Average 2021/23 Rapeseed Rotterdam (Canola) Oil Prices $/tonne


Sunflower oil
Average 2021/23 Sunflower Seed Oil Prices $/tonne

Shipping Update
Global container rates decline additional 2.7%
From June 1 to June 29, Drewry's composite World Container Index decreased an additional 11%. Compared to the same week in 2022, prices are down 79%.
From the June 29, 2023, Drewry World Container Index report:
The latest Drewry WCI composite index decreased from $1,682 on June 1 to $1,494 on June 25
The latest Drewry WCI composite index of $1,494.46 per 40-foot container is now 86% below the peak of $10,377 reached in September 2021. It is 44% lower than the 10-year average of $2,688, indicating a return to more normal prices, but remains 5% higher than average 2019 (pre-pandemic) rates of $1,420
The average composite index for the year-to-date is $1,809 per 40ft container, which is $879 lower than the 10-year average ($2,688 mentioned above)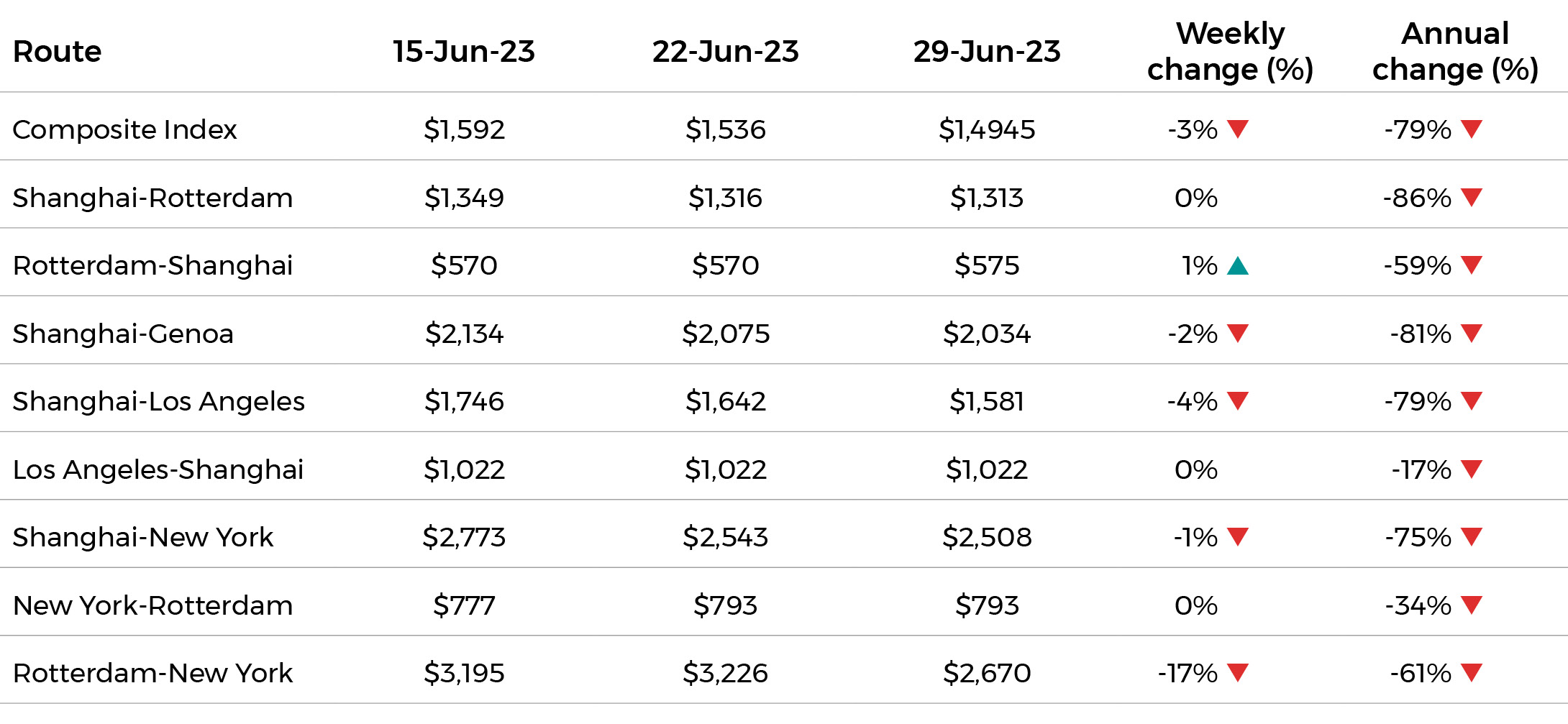 Source: Drewry Supply Chain Advisors
View Drewry shipping data here.
Disclaimer: The information in this document has been obtained from or based upon sources believed to be reliable and accurate at the time of writing. The document should be for information purposes only and is not guaranteed to be accurate or complete.