March 2, 2023
Palm oil market bullish, container shipping costs drop
1 RM (Malaysian Ringgit) = 0.22 USD
1 USD = 0.83 GBP
*Exchange rates calculated and market prices reported on February 27
Crude Palm Oil
Average October Palm Oil Export Prices
Indonesia
$956/tonne (+$4/tonne

Malaysia
$947/tonne (+$1/tonne)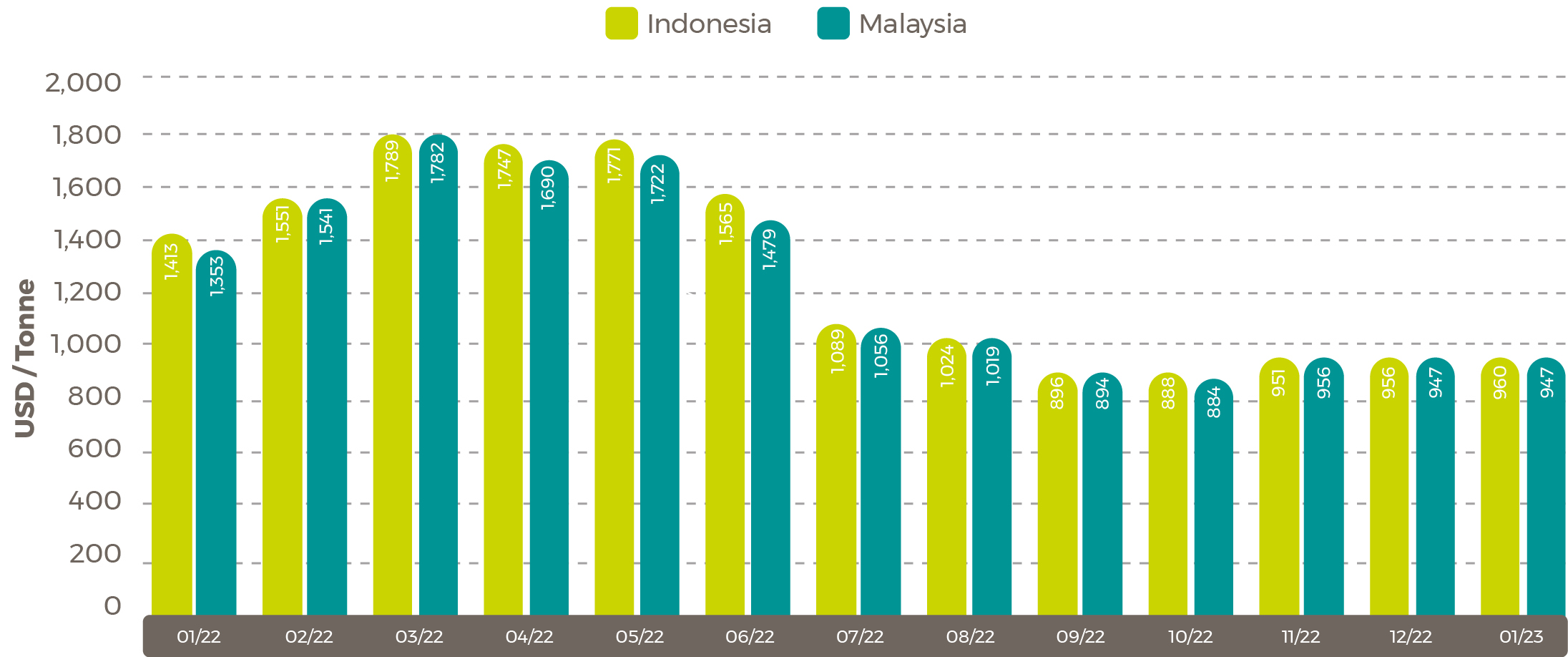 Source: USDA Foreign Agricultural Service
Malaysia palm market

Malaysia's Crude Palm Oil (CPO) settlement prices strengthened throughout February, seeing a seven-week high of 4,235 RM/tonne ($945.63) on February 23. The month started on 3,751 RM/tonne ($837.56), following a downward trending January that averaged 3,937 RM/tonne ($879.09). February's average of 4,033 RM/tonne ($900.52) from the 1st to the 27th of the month is the highest since November's average of 4,170 RM/tonne ($931.12).
The strengthened market is attributed to an increase in crude oil prices making palm oil a more viable option for biofuel feedstock.
According to the February 2023 Oilseeds Report by USDA, palm oil has also edged ahead of soybean oil as the global discount oil. Historically, the two commodities have tracked closely as substitutes.
"The war in Ukraine impacted global vegetable oil prices due to the significant presence of both Ukraine and Russia in the vegetable oil market. Palm and soybean oil both rose to levels exceeding $1,800/ton after the Russian invasion in early March 2022. By the following month, soybean oil was trading at a premium to palm oil driven by a shortage of sunflower seed oil in global markets and renewed demand for biodiesel feedstock in the United States. The demand for biodiesel feedstock put U.S. soybean oil at a premium against other soybean oils and especially against palm oil," says USDA.
Indonesia's reversal of its export restrictions and subsequent stock supplies have also been noted as price contributors.
USDA predicts discounts between palm and soybean oil to remain as Argentina soybean production suffers drought losses and the US increases domestic use.
Malaysia CPO Settlement Price RM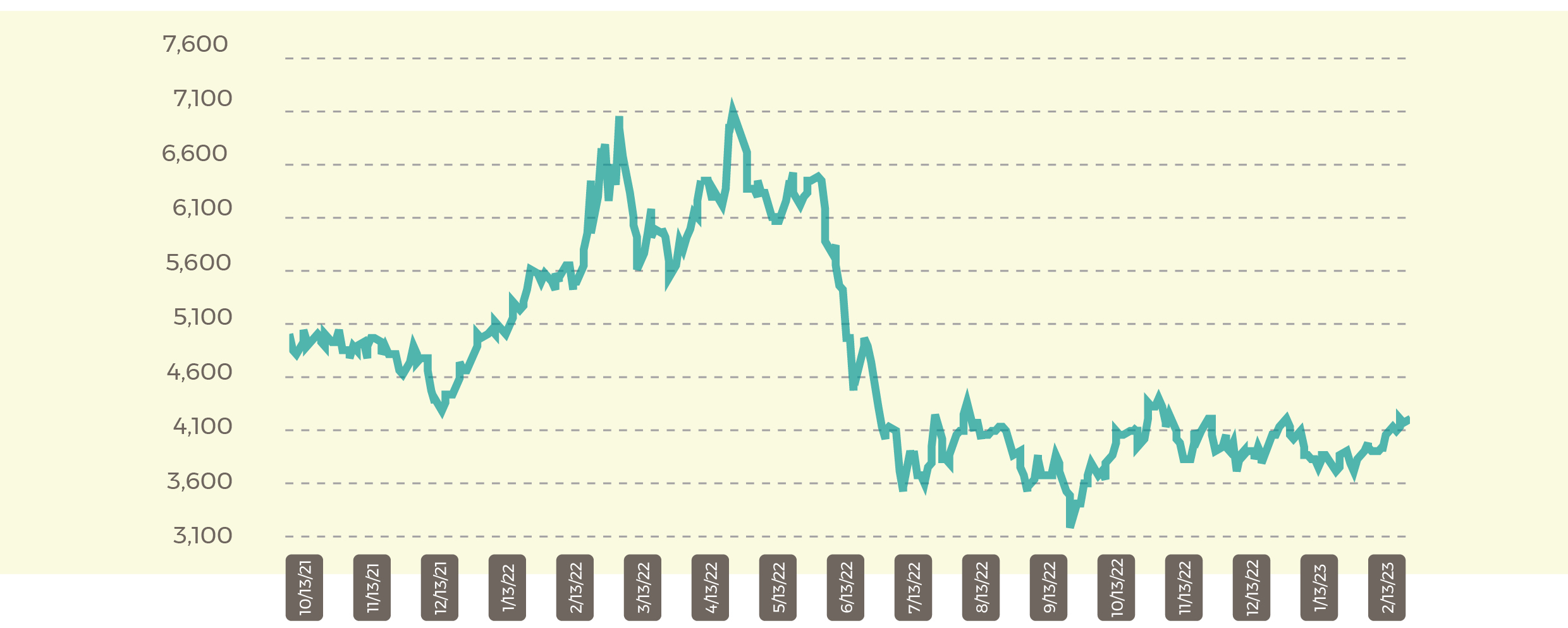 Soybean oil
January 2023 Soybean Oil Export Prices $/tonne


Soybean oil exports down
Soybean oil exports for both Argentina and the US are forecasted down. In the last 10 years, domestic soybean oil demand has increased from 25% of domestic supplies to 44% in the US. This is largely driven by state and federal policy's increased usage of soybean oil for biofuel production, reports USDA. In the 2022/23 marketing year, US soybean oil exports have decreased to a record low of 318,000 tonnes.
As Argentina combats a combination of drought and high temperatures in key soybean growing regions, export figures have pulled back to a five-year low. USDA is projecting farmers to hold onto soybean stocks from the 2022/23 year, only releasing them to the market to pay bills.
Average 2021/22 Soybean Oil Prices $/tonne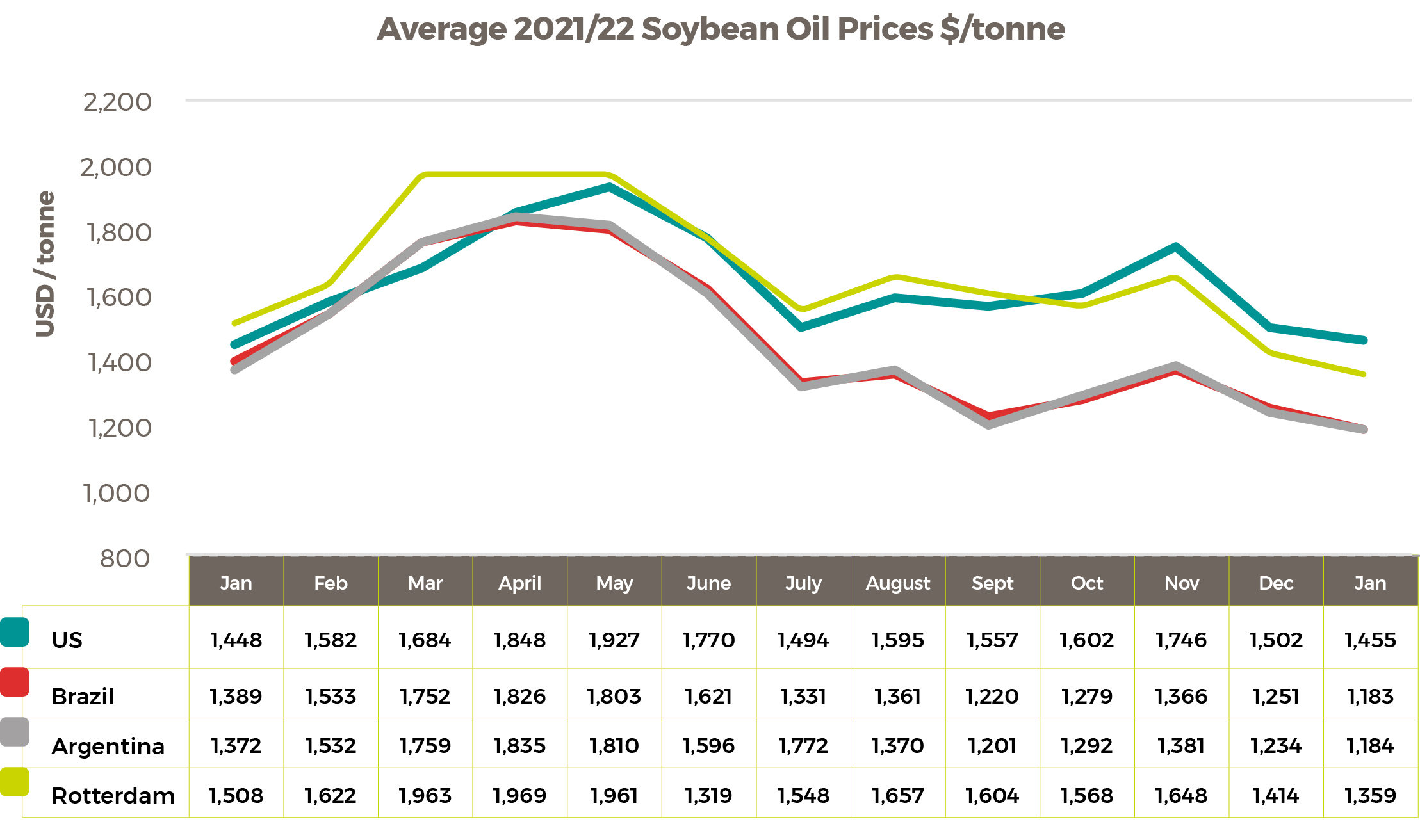 Rapeseed oil
Average 2021/22 Rapeseed Rotterdam (Canola) Oil Prices $/tonne


Sunflower oil
Average 2021/22 Sunflower Seed Oil Prices $/tonne

Shipping Update
Container shipping costs continue to drop
As of mid-February, the cost to ship a standard 40-foot container on short notice from eastern China to the US west coast was $1,444. In comparison, it cost $9,682 in March 2022, reports data analyst firm Xeneta.
According to reporting by the Financial Times, the plunge is being driven by a combination of inflation and the soaring cost of living slowing down consumer spending – 90% of which was shipped – and more expendable income being spent on the service industry.
The decrease in demand is expected to continue, with Maersk predicting container demand to decrease by 2.5% in 2023.
Across the board, rates for containers out of India are decreasing, with analysis from Container-News showing "no signs of reversal."
Average contract rates reported:
West India to UK or Rotterdam – $1,000 per 20-foot container/$1,000 per 40-foot container
UK or Rotterdam to West India – $1,250 per 20-foot container/$1,350 per 40-foot container
India to US East Coast – $1,552 per 20-foot container/$1,997 per 40-foot container
West India to US Gulf Coast – $2,635 per 20-foot container/$3,525 per 40-foot container
Asia to US exports decline
January saw a 20.1% decline in Asia to US container exports, marking month five of a year-on-year decrease, shows data from the Japan Maritime Center.
"Exports from China to the US plummeted by 25.4% to 822,047 TEUs, from Taiwan by 28.5% to 48,124 TEUs, and from Japan by 19.9% to 43,829 TEUs," reports Container-News.
Disclaimer: The information in this document has been obtained from or based upon sources believed to be reliable and accurate at the time of writing. The document should be for information purposes only and is not guaranteed to be accurate or complete.