May 16, 2023
Palm oil rebounds from 7-month low, but outlook looks weak
1 RM (Malaysian Ringgit) = 0.22 USD
1 USD = 0.80 GBP
*Note, exchange rates are for May 15
Malaysia palm prices CPO Settlement Price RM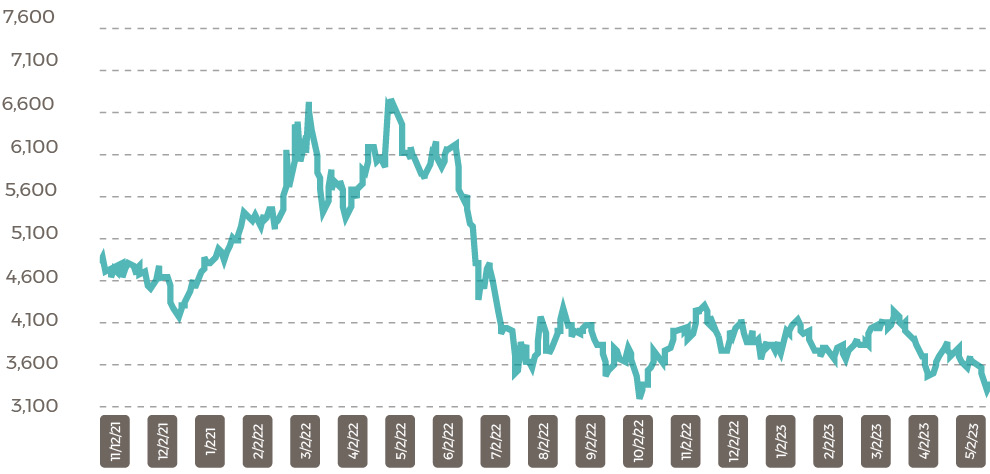 After plummeting to a 7-month low of 3,338 RM/tonne ($742.19) on April 28, Malaysia's Crude Palm Oil (CPO) settlement price regained ground in the first half of May to a high of 3,807 RM/tonne ($846.47) on May 9. Prices have remained volatile, closing at 3,616 RM/tonne nearly a week later on May 15 ($804.00).
Analysis: Palm oil eases on fears of ballooning rival soy oil supplies
As Brazil nears the end of its record soybean harvest and the US predicts bumper soybean and corn crops in the Autumn, Malaysian palm oil futures weakened, reports Reuters.
"The benchmark palm oil contract FCPOc3 for July delivery on the Bursa Malaysia Derivatives Exchange slid 16 ringgit, or 0.44%, to 3,632 ringgit ($818.94) a tonne by the midday break," reports Reuters. "Palm oil futures fell as much as 2.9% during early trade but narrowed losses on bargain buying."
Disclaimer: The information in this document has been obtained from or based upon sources believed to be reliable and accurate at the time of writing. The document should be for information purposes only and is not guaranteed to be accurate or complete.