May, 4 2022
Indonesia's palm export ban shocks the commodity market
1 RM (Malaysian Ringgit) = 0.23 USD
1 USD = 0.76 GBP
Crude Palm Oil (CPO) prices have soared throughout April, with Malaysia's CPO settlement price seeing a 27.6 percent increase from the 1st at 5,566 RM/tonne ($1,278.22) to 7,104 RM/tonne ($1,631.42) on the 29th of the month.
Malaysia palm prices CPO Settlement Price RM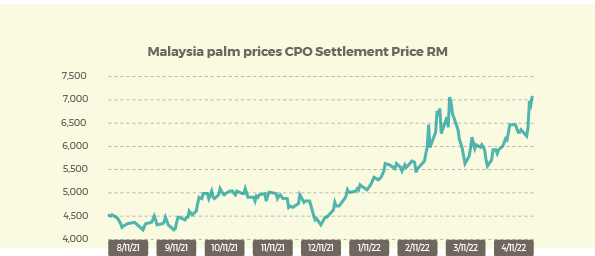 The steady but rapid gain was already in motion from late March as global oilseed markets struggled with sunflower oil shortages as a result of the war between Ukraine and Russia. Ukraine is the world's largest exporter of sunflower oil, with conflict inhibiting export and expected to prevent farmers from missing harvesting and planting windows.
In Indonesia, palm has seen an increase in prices since November 2021 which has led the government to implement a number of policies to curb the price of the country's primary cooking oil. With policy failure that included subsidies, export limits and domestic price ceilings, Indonesia's government has banned refined, bleached and deodorized (RBD) palm olein exports as of April 28. Olein is primarily used as a replacement for partially hydrogenated oils, making it ideal for food production.
While it is still early days in the export ban and policy has already been amended twice – first to ease what couldn't be exported and secondly to further increase restrictions to include crude palm oil, (RBD) palm oil and used cooking oil – the global commodity market has reacted quickly, seeing a sharp increase in soybean oil.
To read an extensive report on the situation from NPR, click here.
Disclaimer: The information in this document has been obtained from or based upon sources believed to be reliable and accurate at the time of writing. The document should be for information purposes only and is not guaranteed to be accurate or complete.