May 4, 2023
Malaysia palm oil market reaches 7-month low, global container rates continue to weaken
1 RM (Malaysian Ringgit) = 0.22 USD
1 USD = 0.80 GBP
*Exchange rates calculated and market prices reported on April 3
Crude Palm Oil
Average March Palm Oil Export Prices
Indonesia
$1,007/tonne (+$31/tonne)

Malaysia
$968/tonne (+$10/tonne)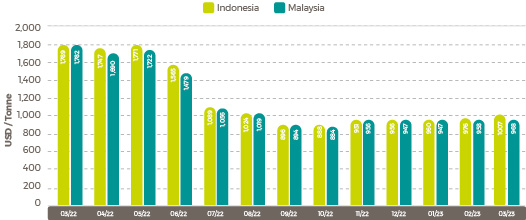 Source: USDA Foreign Agricultural Service
Malaysia palm market

Weak exports and a surplus of supply from Indonesia have been cited as the reason for Malaysia's Crude Palm Oil (CPO) settlement price to see its lowest price in eight months. Hitting a low of 3,338 RM/tonne on April 28, prices haven't been this low since bottoming out at 3,226 RM/tonne on September 28, 2022.
In reporting by Reuters, competing oil prices such as soy and soft oils have also influenced as those markets have given buyers cheaper alternatives.
Throughout April, prices have seen a downward trend starting the month off at 3,884 RM/tonne and seeing its low on the 28th.
This has continued in line with the monthly average CPO settlement price also in decline for the last two months. In March, the average price was down 98 RM/tonne from February at 3,935 RM/tonne. In April, prices saw a significant reduction, resulting in a decline of 239 RM tonne, for an average CPO settlement price of 3,696 RM/tonne.
Malaysia CPO Settlement Price RM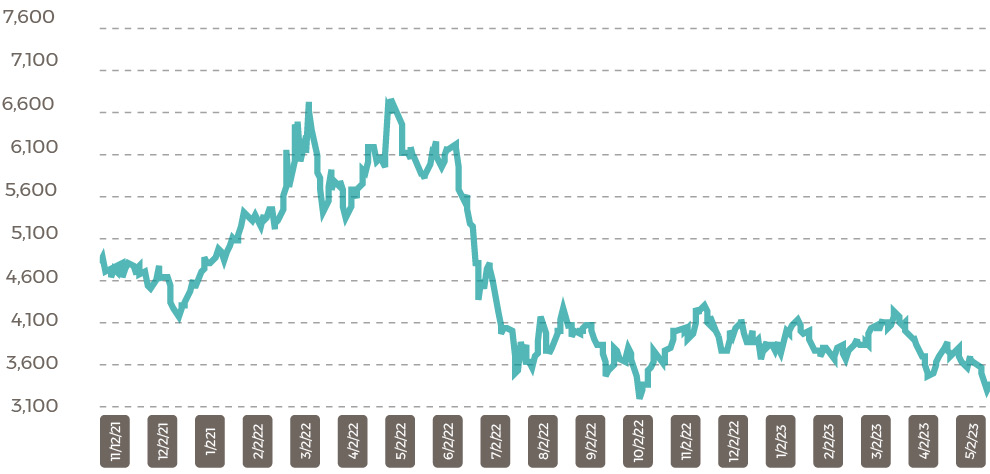 Soybean oil
March 2023 Soybean Oil Export Prices $/tonne


Soybean oil exports down
According to the USDA, soybean prices continued to decline as the market prepares for an anticipated record breaking harvest in Brazil.
"Brazil prices fell the most, increasing the discount versus other exporters. Following a several-month trend, global soybean export prices were also pressured downward by soybean oil prices amidst ample supplies of other vegetable oils as crush margins were less attractive for processors. As of the beginning of April, South America soybean oil is trading at a premium to palm oil," says the USDA's April 2023 Oilseed report.
Average 2021/23 Soybean Oil Prices $/tonne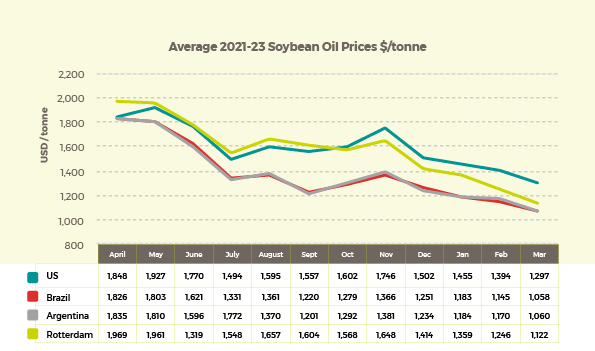 Rapeseed oil
Average 2021/23 Rapeseed Rotterdam (Canola) Oil Prices $/tonne


Sunflower oil
Average 2021/23 Sunflower Seed Oil Prices $/tonne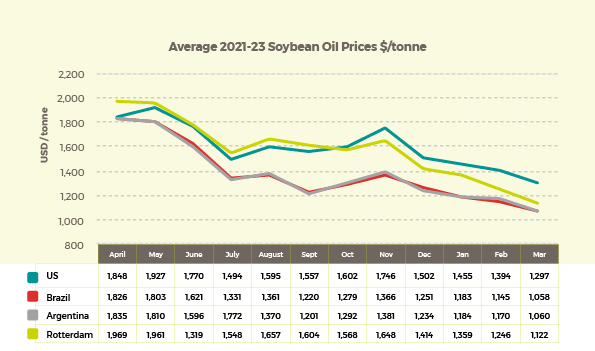 Shipping Update
Global container rates continue to weaken
Compared to the same week in 2022, Drewry's composite World Container Index decreased by 78% in the last year.
From the April 27, 2023 Drewry World Container Index report:
The average composite index for the year-to-date is $1,890 per 40ft container, which is $797 lower than the 10-year average of $2,688
The latest Drewry WCI composite index of $1,740 per 40-foot container is now 83% below the peak of $10,377 reached in September 2021
It is 35% lower than the 10-year average of $2,688, indicating a return to more normal prices, but remains 23% higher than average 2019 (pre-pandemic) rates of $1,420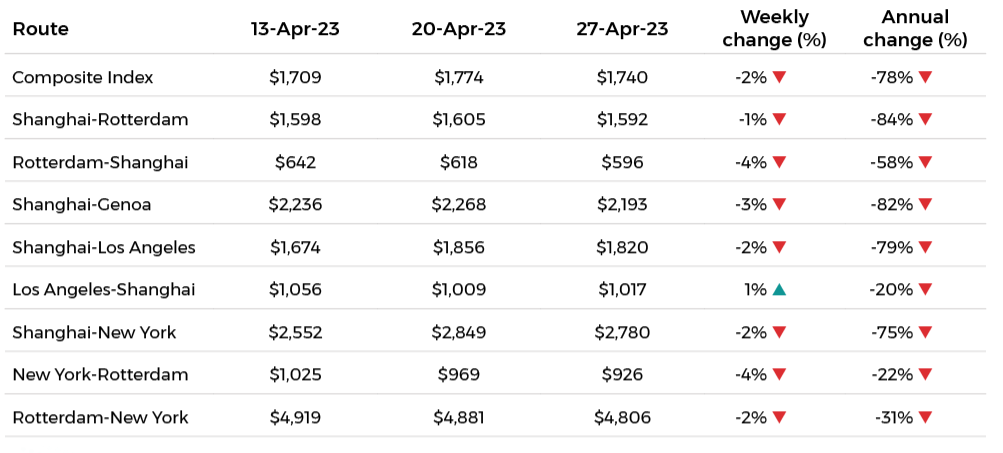 Source: Drewry Supply Chain Advisors
View Drewry shipping data here.
Disclaimer: The information in this document has been obtained from or based upon sources believed to be reliable and accurate at the time of writing. The document should be for information purposes only and is not guaranteed to be accurate or complete.