November 11, 2022
Palm oil prices inch higher, China – LA spot rates see
pre-pandemic prices
1 RM (Malaysian Ringgit) = 0.21 USD
1 USD = 0.87 GBP
*Exchange rates calculated and market prices reported on November 1
Crude Palm Oil
Average September Palm Oil Export Prices
Indonesia
$896/tonne (-$129/tonne)

Malaysia
$894/tonne (-$125/tonne)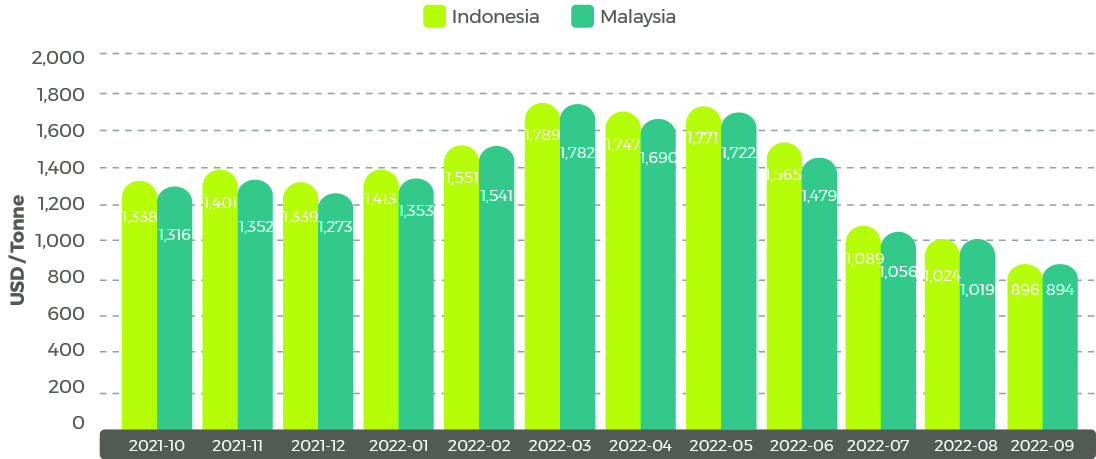 Source: USDA Foreign Agricultural Service
Malaysia palm market

Malaysia's Crude Palm Oil (CPO) settlement prices inched forward throughout October starting the month off on a low of 3,426 RM/tonne ($723.32) on the 3rd, reaching a high of 4,147 RM/tonne ($875.54) on October 27. Following a dip to 3,989 RM/tonne ($842.18) the following day, the month closed at 4,054 RM/tonne ($855.91) on October 31.
After seeing relief in prices throughout September as Indonesia grappled with growing stocks due to its export policy adjustments, the average daily October CPO settlement price sat 191 RM/tonne ($40.33) higher as markets regained footing.
According to the Week #42 Oil Market Report released by Olenex, price increases were influenced by the uncertainty of sunflower oil and grain shipments from Ukraine and reported sharp drops in soybean oil stocks.
Malaysia CPO Settlement Price RM

Soybean oil
September 2022 Soybean Oil Export Prices $/tonne

Soybean oil declines
Global soybean oil prices sustained losses as global vegetable oil prices declined. However, US soybean oil losses were minimal due to the market being supported by domestic biodiesel production, reports USDA.
Average Soybean Oil prices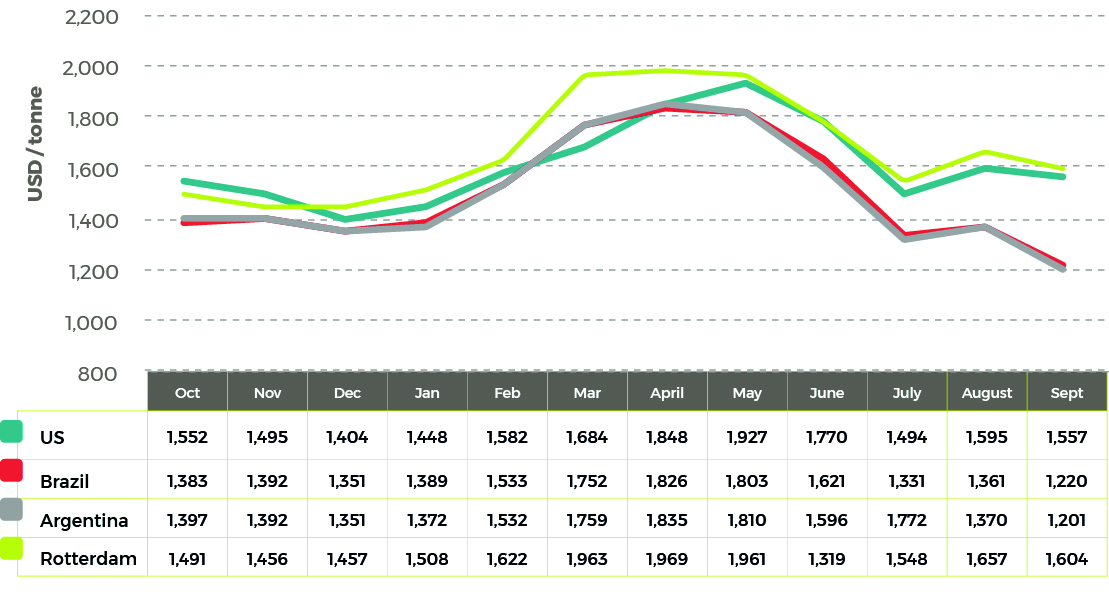 Rapeseed oil
Average Rapeseed Rotterdam (Canola) Oil Prices


Sunflower oil
Average Sunflower Seed Oil Prices

China – LA container spot rates see pre-pandemic peak season levels
Freight rates for forty-foot containers being shipped from China to Los Angeles fell to $1,825, sending shipping rates for the route to pre-pandemic levels shows data from shipping supply chain firm Shifl.
"Even as vessels continue to queue outside East Coast ports, freight rates between China-US East Coast are declining, with freight rates for 40' containers on the China-New York trade corridor dropping to a rate of US$5,550, which is still higher than the peak season rate pre-pandemic," reports Container News.
Along with a drop in shipment orders as consumer demand slows, Shifl notes the price movement is also being impacted by International Longshore and Warehouse Union contract negotiation with the Pacific Maritime Association.
"The fall in freight rates can also be explained by a 'shift' in peak shipping season over this year, reflected in extremely strong import TEU volumes over the second quarter, pointed out Shifl in its report," says Container News.
Profits peak for shipping giant Maersk
Beginning in August, shipping giant Maersk began to see declines in rates and volumes, months ahead of the company's original projections that the market would not peak until the fourth quarter of this year.
Reported by Hellenic Shipping News, Maersk saw record high profits in Q3 with a net income of $8.9 billion. However, rates are expected to normalize and lead the company out of record earning territory.
Next year's contract rates to 'slide'
Expected contract rates have also slid. In August, Maersk expected average contract rates to increase $1,900 per FEU in full-year 2022 versus 2021, reports Hellenic Shipping News. However, it has since reduced these projections to $1,700 per FEU."
Disclaimer: The information in this document has been obtained from or based upon sources believed to be reliable and accurate at the time of writing. The document should be for information purposes only and is not guaranteed to be accurate or complete.