December 9, 2021
Average November palm prices see new high as container shipping costs up 121% year-on-year
1 RM (Malaysian Ringgit) = 0.24 USD
1 USD = 0.75 GBP
Crude Palm Oil
Average October Palm Oil Export Prices
Indonesia
$1,338/tonne (+$125/tonne

Malaysia
$1,316/tonne (+$136/tonne)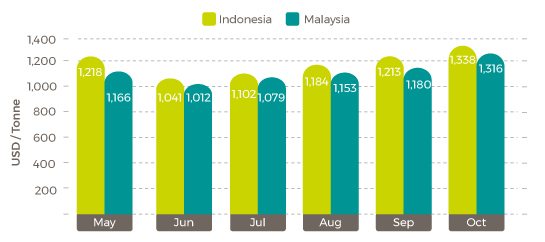 Source: USDA Foreign Agricultural Service
Malaysia palm market
Compared to the previous two months, Malaysia's Crude Palm Oil (CPO) settlement price saw the lowest range at 399 RM/tonne ($94.33) throughout November. Not escaping volatility, the market was more stable than October which saw a range of 567 RM/tonne ($134.04). That didn't stop average November prices holding strong at 4903 RM ($1159.10), up 3 RM ($0.71) from the previous record set in October and up 354 RM ($83.69) from September's average.
The highest price came in the first week of the month on November 3, with a CPO settlement price of 5,071 RM/tonne ($1,198.82)
The second biggest net change occurred mid-month, with prices closing at 4,966 RM/tonne ($1,174) on November 15 and closing at 4,788 RM/tonne ($1,131.92) the following day
The first biggest net change took place at the end of the month, seeing a 185 RM/tonne ($43.74) drop between November 29 and November 30, closing the month at 4,672 RM/tonne ($1,104.49)
December prices started the month bullish, hitting 4,929 RM/tonne ($1168.98) on December 7
Malaysia palm prices CPO Settlement Price RM

Daily Settlement Price is the official daily closing price for a contract calculated each business day.
Plans in place to address labour shortages
Demand from China and India continue to drive price increases as Malaysia palm plantations struggle with continued labour shortages – which has production on track for a five-year low – and keeping up with its own B20 biodiesel programme.
On October 29, the Malaysian government released its Economic Report 2021/2022, with plans to ease labour shortages by easing restrictions on foreign workers in the second half of 2022, ensuring the eventual return of 32,000 workers. A month later, FGV Holdings, a leading Malaysia-based palm oil producer, announced its migrant workers would start arriving by the end of 2022. In a report by Reuters, the Malaysian Palm Oil Association
(MPOA) said plantations are short of around 75,000 workers, with nearly half that figure being harvesters. As a result, MPOA says it will have lost 4.5 million tonnes of CPO production in 2021.
Industry analysist Dorab Mistry, director of Godrej International, said in a virtual conference on December 2 that it will be May 2022 before Malaysia's palm oil production recovers.
Dorab Mistry's predictions show from December to February, palm oil prices are expected to have no relief with benchmark prices trading between 5,000-5,440 RM/tonne ($1,182.03-1,286.05). While still early in the month, as of December 9, Malaysia's CPO settlement price was closing sub 5,000 RM/tonne.
Soybean oil
October 2021 Soybean Oil Export Prices $/tonne

Global soybean oil prices gain strength
US soybean oil prices rallied $81/tonne in October in line with competing oils. Tight supplies saw Argentina's soybean oil market strengthen by $91/tonne. Brazil saw the biggest increase of $125/tonne, driven by an increased export market.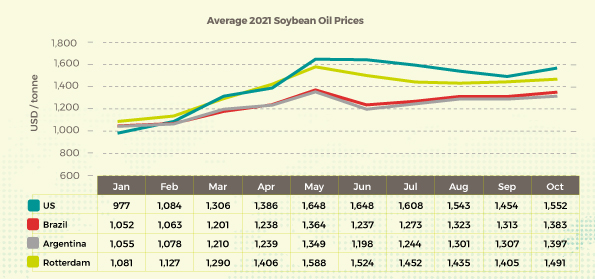 Rapeseed oil
Average 2021 Rapeseed Rotterdam (Canola) Oil Prices

Sunflower oil
Average 2021 Sunflower Seed Oil Prices
Shipping update
Long-term ocean freights up 121% year-on-year
An increase in long-term contracted ocean freights of 16.3% throughout November has pushed container shipping costs up 121.2% year-on-year, reports Xeneta Shipping Index Public Indices, a global shipping analytics firm. In July 2021, the largest monthly rate occurred with a record 28.2% increase.
Global shipping capacity decreases
Sea-Intelligence's most recent capacity analysis found 12.5% of global shipping capacity to be absorbed by delays. The previous high was 11.3% in February, which had dropped to 8.8% by April.
The global maritime data and analysis firm remains cautious about its future outlook on the shipping crisis saying that if a resolution starts now, the earliest things will return back to normal will be the end of 2022.
Fines for "loitering" ships at Los Angeles and Long Beach ports delayed
On October 29, more than 100 container ships were waiting to dock in the Los Angeles and Long Beach Ports. While the Biden administration has tried to address the severity of the congestion by ordering for 24-hour operation, labour shortages and lack of coordination in a complex supply chain has yielded little relief with analysts predicting it to be mid-2022 until congestion is resolved.
To cut down on "loitering" ships, the Los Angeles and Long Beach harbour commission voted to start charging a "container excess dwell fee." Initially, fines were to start November 1, liners will be charged $100 per container, with fines increasing $100 per container per day until it is moved. Due to a "marked improvement of fluidity of our marine terminals," Port of Los Angeles Executive Director Gene Seroka announced that fines would be delayed until at least November 29.
Ocean carriers have said any fees would be passed on to shippers.
Backlog at Los Angeles and Long Beach ports moves further out to sea to avoid SAQA
A decreasing number of ships offshore of the two major California ports has given a false sense of congestion issues easing. To avoid being fined from spending too much time within the 40-mile port zone, ships are anchoring outside the Safety and Air Quality Area (SAQA), which runs 150 miles west and 50 miles north and south of the ports.
On Monday, November 29, a record of 96 ships sat inside and outside of the SAQA. A day later, Marine Exchange of Southern California reported 44 container ships within the SAQA zone and 50 container ships outside.
US agriculture groups ask Congress to intervene in shipping delays
US agriculture groups including the North American Meat Institute, National Pork Producers Council, National Hay Association and the Agriculture Transportation Coalition are lobbying to the House Transportation Coast Guard and Maritime Transportation Committee for Congress intervention in US port delays and congestion.
The group says shipping issues has cost the industry more than $1.5 billion, also noting that future export markets are at jeopardy as shipping container prices have increased nearly 195% in the last year. The group would like US regulators to intervene on what they call "unreasonable detention and demurrage fees," ramp up port hours and increase enforcement fees imposed by carriers and terminal operators.
Rotterdam backlog expected to continue throughout 2022
A shortage of truck drivers is one of the leading causes for congestion at EU's Rotterdam port. Typically, it takes 4.5 days to take cargo inland to be unloaded. The driver shortage has pushed that to about 10 days.
Port of Rotterdam's Commercial Vice President Emile Hoogsteden said in a mid-November interview that no changes in the current situation are expected until at least the end of 2022.
Disclaimer:The information in this document has been obtained from or based upon sources believed to be reliable and accurate at the time of writing. The document should be for information purposes only and is not guaranteed to be accurate or complete.