October 13, 2023
Palm oil prices rally after early October decline
1 RM (Malaysian Ringgit) = 0.21 USD
1 USD = 0.82 GBP
*Note, exchange rates are for October 13
Malaysia palm prices CPO Settlement Price RM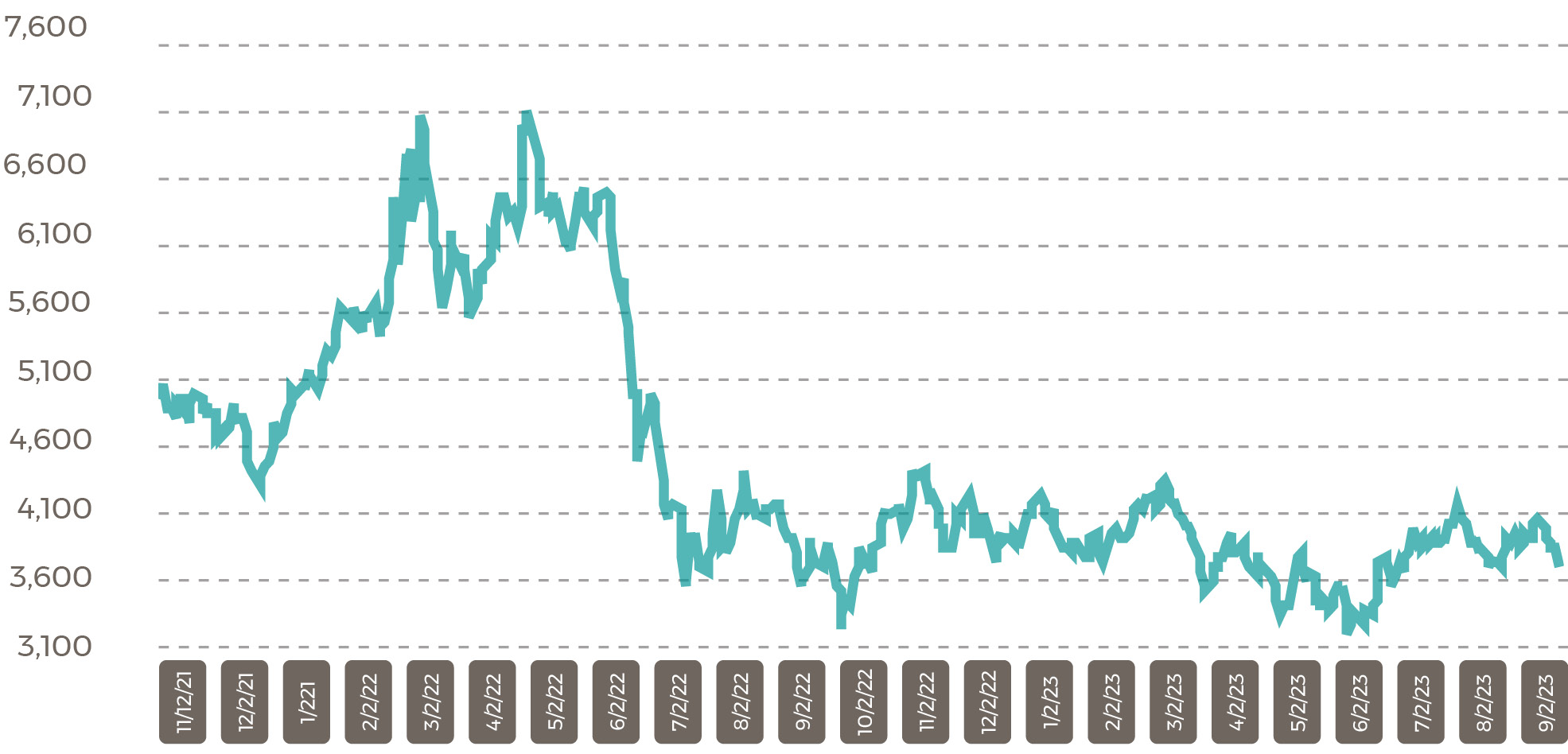 Malaysia's Crude Palm Oil (CPO) settlement price dipped during the second half of September and first part of October, hitting a near three-month low of 3,551RM/tonne ($745.71) on 11th. Prices then rose, with a 4.4% increase by the 13th to 3,707RM/tonne (£778.47).
Analysis: Weak rival oil market drops palm oil price
Large stocks of palm oil in Malaysia along with cheaper sunflower oil from Russia and Ukraine put pressure on the market. This was accompanied by sales of Indonesian palm oil ahead of the launch of a crude palm oil futures exchange in the country on Friday October 13 th.
It had been planned that Indonesian authorities were going to make it mandatory for all exports to go through the exchange to help it develop a benchmark price. However, on Wednesday the 11th its chief regulator said this would not be the case, easing the pressure to ship.
The Malaysian government said on Friday 13th that it expects the price of crude palm oil to range between 4,000RM/tonne and 4,500RM/tonne ($840 and $945) in 2024.
"The estimate was higher than the 3,500 to 4,000 ringgit per tonne average price seen for this year, according to a government report released alongside the 2024 budget," reports Reuters.
Disclaimer: The information in this document has been obtained from or based upon sources believed to be reliable and accurate at the time of writing. The document should be for information purposes only and is not guaranteed to be accurate or complete.