September 1, 2023
Crude palm oil remains volatile, global container rates increase 12%
1 RM (Malaysian Ringgit) = 0.22 USD
1 USD = 0.79 GBP
*Exchange rates calculated and market prices reported on August 29
Crude Palm Oil
Average April Palm Oil Export Prices
Indonesia
$912/tonne (+$72/tonne)

Malaysia
$885/tonne (+$70/tonne)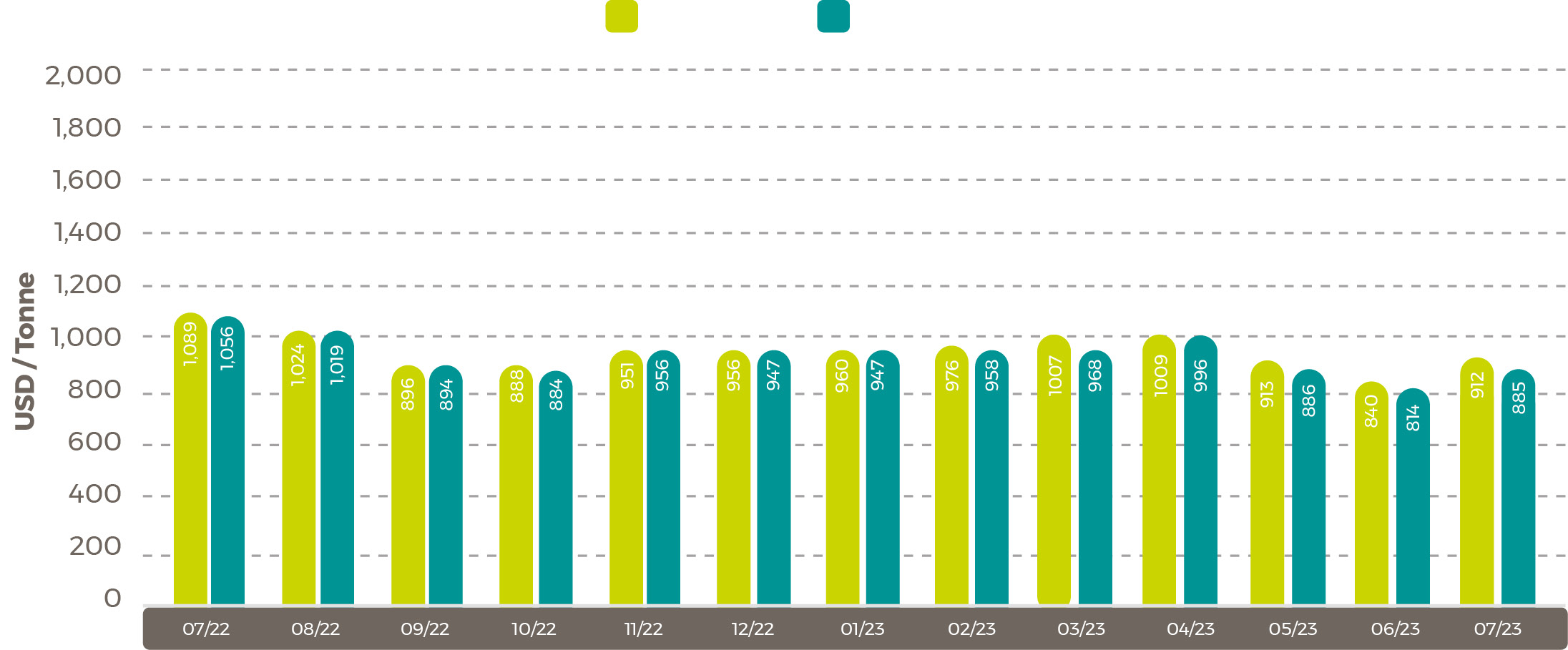 Source: USDA Foreign Agricultural Service
Malaysia palm market

Following a four-month high in July of 4,164 RM/tonne ($897.41) on the 24th, Malaysia's Crude Palm Oil (CPO) settlement price became volatile throughout August. Starting August 1 at 3,872 RM/tonne ($834.48), it saw a month low of 3,693 RM/tonne ($795.91) on August 8. Prices climbed to a high of 4,010 RM/tonne ($864.22) on August 30.
Drought conditions throughout August in Southeast Asia are predicted to carry through September – threatening palm supply. Brought on by El Niño weather patterns, global oilseed crop supply and cereal production are under pressure, which will have a long-term impact on markets.
Malaysia CPO Settlement Price RM

Soybean oil
July 2023 Soybean Oil Export Prices $/tonne


Soybean oil exports prices increase
According to USDA, soybean oil increased as a result of a stronger vegetable oil market driving competitive oils.
"Economic challenges in countries like Egypt, Bangladesh, and Pakistan have muted global meal demand, keeping prices relatively restrained. The premium for U.S. soybean oil compared to other exporters jumped dramatically this month to more than $600/ton, driven by domestic biofuel demand, a reduction in forecast U.S. soybean production, and rising rapeseed oil prices caused by drought in Canada," says USDA.
Average 2021/23 Soybean Oil Prices $/tonne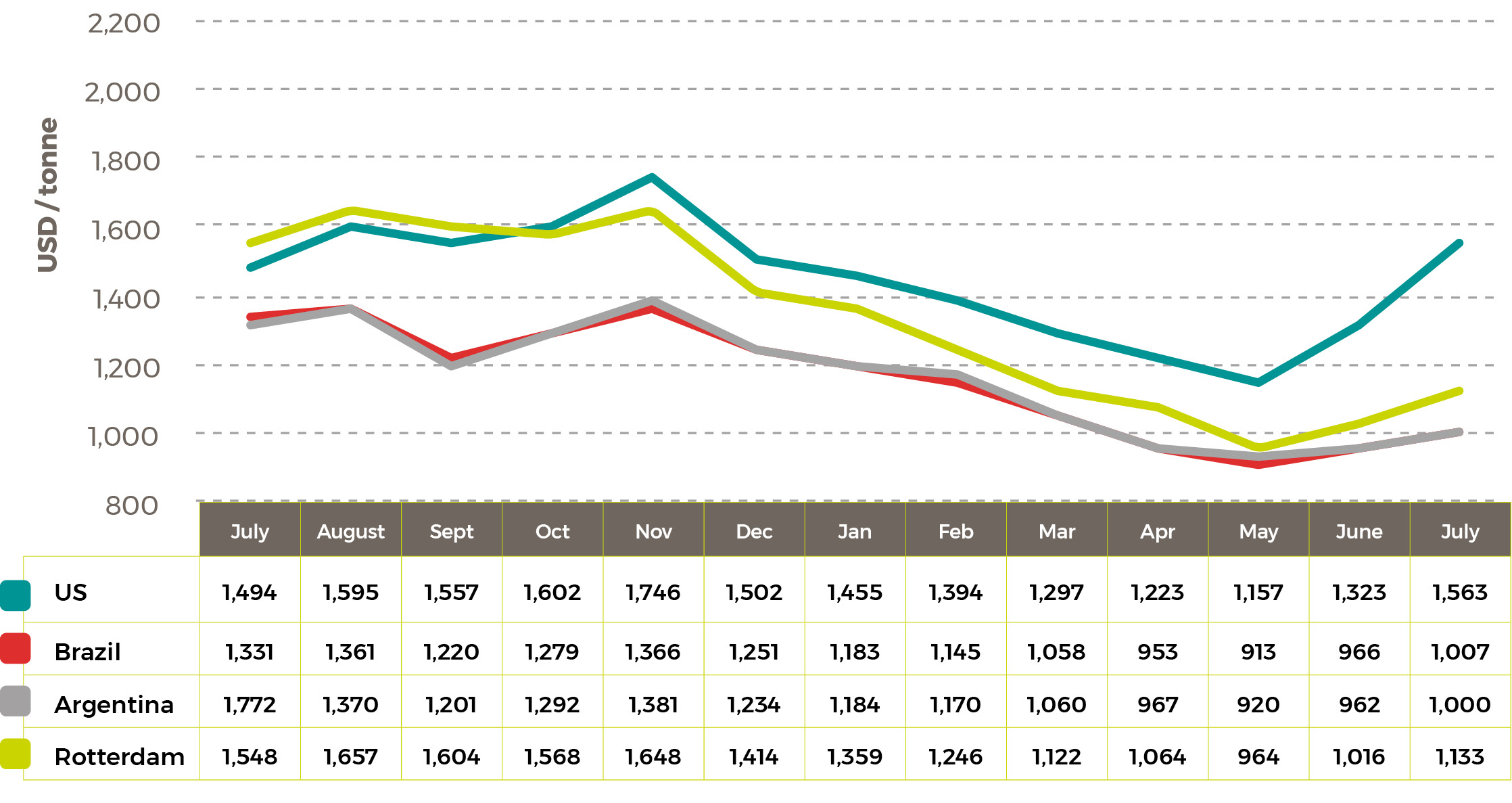 Rapeseed oil
Average 2021/23 Rapeseed Rotterdam (Canola) Oil Prices $/tonne


Sunflower oil
Average 2021/23 Sunflower Seed Oil Prices $/tonne

Shipping Update
Global container rates increase by 12% since the end of July
Global container rates continued to increase for the second month in a row, with a 12% increase from July 23 to August 23. Drewry's composite World Container Index peaked the week of August 17 at $1,832 – a $256 increase from July's high price of $1576 the week of July 23. Compared to the same week last year, prices are down by 70.5%.
From the August 23, 2023, Drewry World Container Index report:
The latest Drewry WCI composite index of $1,768.33 per 40-foot container is now 83% below the peak of $10,377 reached in September 2021
It is 34% lower than the 10-year average of $2,682, indicating a return to more normal prices, but remains 24% higher than average 2019 (pre-pandemic) rates of $1,420
The average composite index for the year-to-date is $1,772 per 40ft container, which is $910 lower than the 10-year average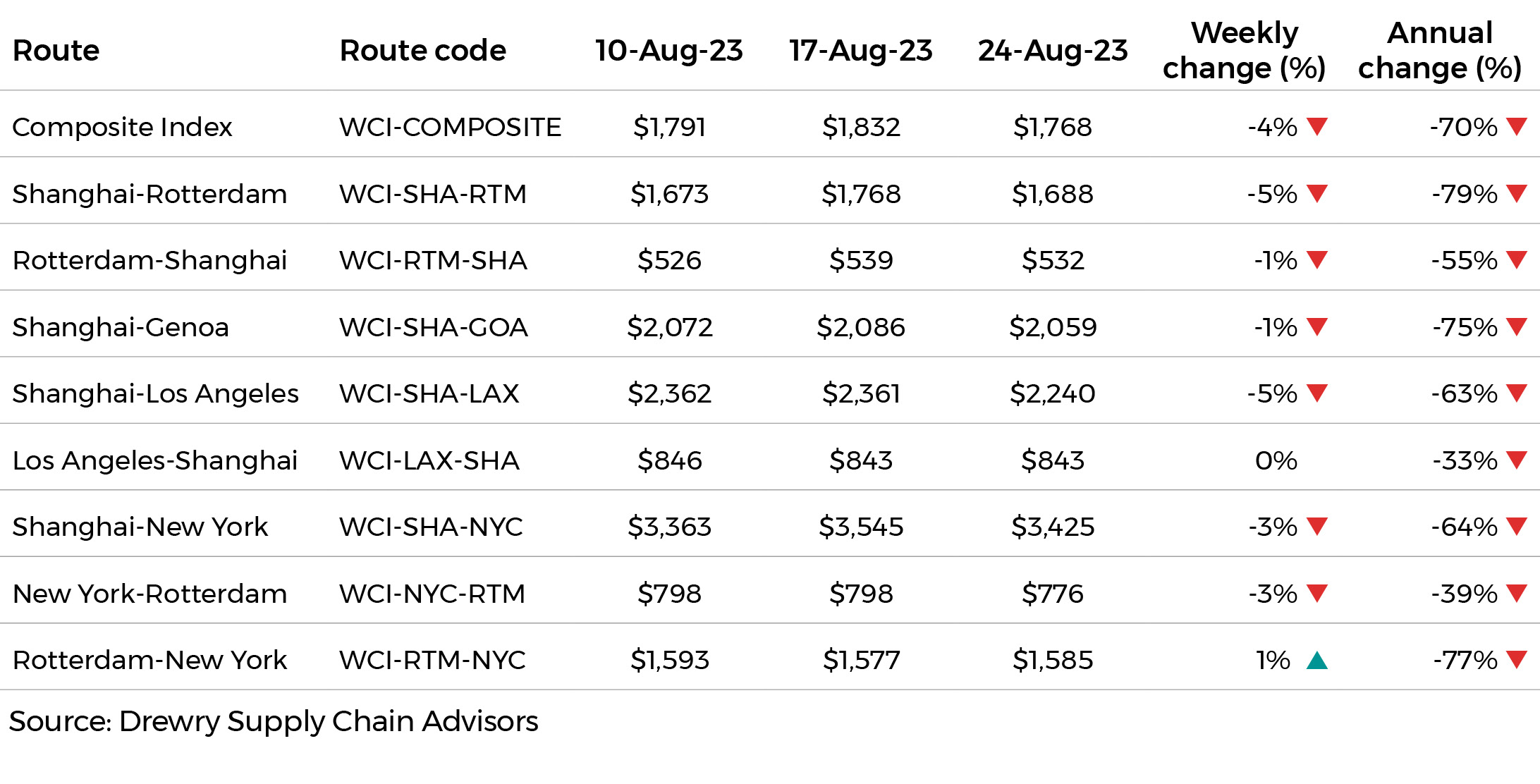 Source: Drewry Supply Chain Advisors
View Drewry shipping data here.
Disclaimer: The information in this document has been obtained from or based upon sources believed to be reliable and accurate at the time of writing. The document should be for information purposes only and is not guaranteed to be accurate or complete.