September 27, 2022
Demand from India lifts palm oil prices by 4%
1 RM (Malaysian Ringgit) = 0.22 USD
1 USD = 0.89 GBP
Malaysia palm prices CPO Settlement Price RM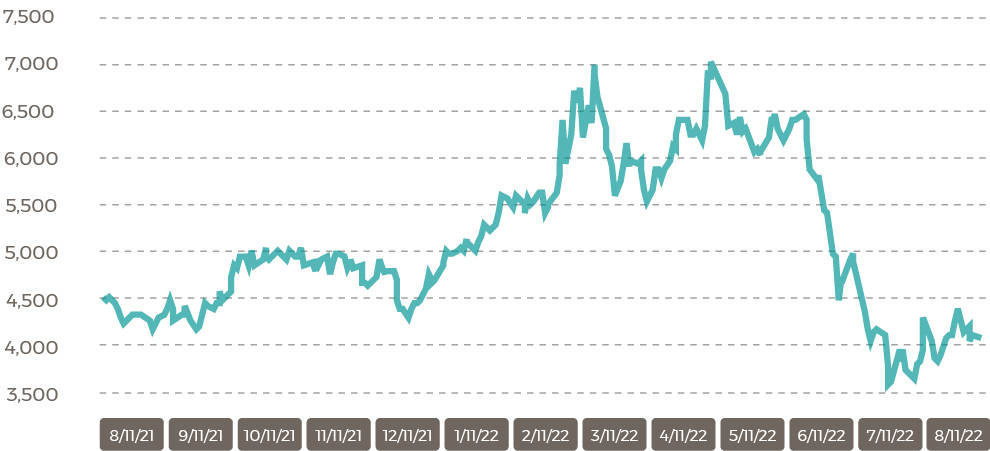 Going into September, Malaysia's Crude Palm Oil (CPO) settlement price steadily weakened to a low of 3,541 RM/tonne ($775.05) on September 8, surpassing the 12-month low of 3,568 RM/tonne ($780.96) on July 14.
Settlement price began to pick up the pace from there, seeing a 215 RM/tonne ($212.29) increase between September 12 and 13. By September 22 the CPO settlement price was 3,826 RM/tonne ($837.43), still 168 RM/tonne ($36.77) short from September 1.
Demand from India lifts prices
According to a Reuters survey, an increase in domestic consumption and the weaker price could increase India's palm imports by 9% in 2022/23.
"Exports of Malaysian palm oil products for Sept. 1-20 rose 32.7% to 952,888 tonnes from 718,291 tonnes shipped during Aug. 1-20, cargo surveyor Societe Generale de Surveillance (SGS) said," reports Reuters. "SGS data also showed shipments to India surged 50% during the period as the world's biggest edible oil buyer ramped up purchases ahead of the Diwali festival next month."
Disclaimer: The information in this document has been obtained from or based upon sources believed to be reliable and accurate at the time of writing. The document should be for information purposes only and is not guaranteed to be accurate or complete.